September 2018
Vodafone appear to have taken quite a hit on both download and upload speeds over the summer months, thankfully they stay top for latency across the country based on our results in August. Movistar lead speeds and network stability as Orange and Yoigo battle for second and third place.
Movistar place first for download speeds
According to our latest results for August, Movistar top download speeds scoring 17.41Mbps across both 3G and 4G. Vodafone drop significantly from second to fourth place with speeds of just 10.34Mbps compared with our July report, where they reached 15.37Mbps and also placed first in Catalonia. In their place, Yoigo jump to second, and Orange place third, with average download speeds of 13.39Mbps and 12.43Mbps respectively across both 3G and 4G, although Orange inch ahead in Andalusía to take second place from Yoigo.
Our research published last month shows Vodafone's speeds beginning to drop during July and early August due to network congestion over summer, particularly in vacation hotspots across the country and appears to have reached an all time low for this year based on our real world tests.


Vodafone lead latency
Thankfully for Vodafone, they place at the top of our latency chart across the country, with results of 28.4ms on 4G, ahead of Movistar, Yoigo and Orange who score 34.9ms, 37.3ms and 38.1ms respectively. Orange make the jump from fourth to second in Andalusía and place first in Valenciana with scores of 30.0ms for latency but drop back down to fourth in Catalonia where they only manage 44.8ms on 4G.


Movistar perform best for network stability
With the lowest average results for jitter and packet loss, Movistar lead network stability for the group. Orange place fourth for network stability with the highest scores in August for both jitter and packet loss. Thankfully Simyo, a MVNO using the Orange network, has better news to report, recently reaching 1 million customers in Spain.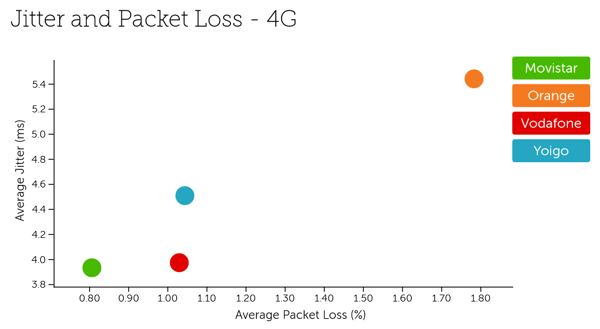 Our findings for Spain are based on 25.9 billion network quality measurements including 2.46 million speed tests in August 2018. Our latest complimentary Mobile Experience Report is available to download from the Tutela Insights portal.
---