August 2018
Spain is undoubtedly one of the most popular summer hotspots, and not just for visitors but residents too. As locals head to the coast for a hard earned vacation over summer, our analysis shows a sharp increase in mobile data usage. We've taken a look at the real world network experience throughout Spain, and how increased data usage has impacted on performance.
---

Key findings from our analysis:
Data usage increased rapidly as the summer vacation period started

Vodafone customers used 30% more 4G data during the holiday period

Increased data usage impacted performance and caused download speeds to fall, with Vodafone users suffering the most.

Coastal areas saw the biggest drops in performance

---
Research Facts:
All findings and analysis were based on data collected from the criteria below:
Time period: 4th June to 19th August 2018

Sample size: Over 1.5 million speed tests were taken on Android and iOS users of Tutela's software in the time period

Location and users: All research was conducted in Spain, from residents only (visitors to Spain who were roaming were excluded from these findings)
---
To understand which mobile operators are performing best and why, we took more than 1.5 million mobile speed tests in July and calculated the average speeds users are getting through each network. We test mobile networks in a way that represents the day-to-day usage and experience of real-world mobile users, such as accessing websites or downloading and sending images (not the maximum potential speeds under test conditions), so we can see what a typical user is experiencing on any given network.
4G data usage increased rapidly during summer
Our analysis showed data usage increased rapidly as the holiday season started, especially for those on the Vodafone network who have increased their average daily data usage by 32%. Our data also shows a similar, albeit smaller increase, for the other three leading operators in Spain, no doubt the result of people going away for their summer holiday to other parts of the country.


The impact on speed
Interestingly, the increase in data usage into the summer months appears to have a direct, negative impact for average download speeds for the operators affected by the increase in network traffic. Significantly for Vodafone, who we saw have the biggest increase in data usage, where download speeds fell from 19Mbps at the beginning of June, to just over 10Mbps into mid August. This could be for a number of reasons, but an increase in data usage and corresponding decrease in download speeds could be a sign of network congestion.
These results echo our findings from Canada, where we analyzed wifi vs cellular usage, and found those connected to the Rogers network experienced the slowest average download speeds whilst consuming the most amount of data.


Holiday regions are worst affected

Our data shows the biggest drop in download performance in the key holiday hotspots of Spain. As residents travel to the coast for summer vacation, it's evident they're using more mobile data and less WiFi, impacting on network congestion and overall performance across all operators.
Specifically in Andalusia, Catalonia, Murcia and Valenciana, we've seen significant drops in 4G download speeds at the end of July. In contrast, 4G download speeds for Madrid have stayed relatively stable, even growing slightly at the end of July before a small drop into mid August.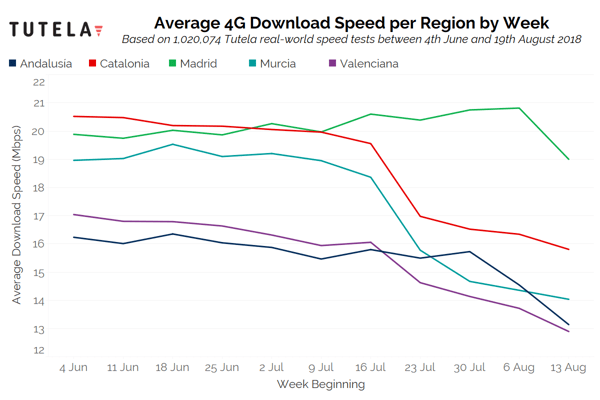 ---
Discover more of our data insights for Spain, and across the world, by joining Tutela Insights today.