July 2018
Movistar lead our latest download speed chart for June with average speeds of 17.71Mbps across both 4G and 3G. Vodafone place second with average download speeds of 15.37Mbps, followed by Yoigo and Orange respectively.
In Andalusía and Valenciana, Movistar reach average real world download speeds of 25.53Mbps and 24.92Mbps respectively, however Vodafone take the lead in Catalonia, reaching our highest recorded speeds for the month of 27.66Mbps.
In Spain's recent spectrum auction, Telefónica have invested 107.4 million euros and come away with 50 MHz with which to improve data services and deploy 5G in the near future.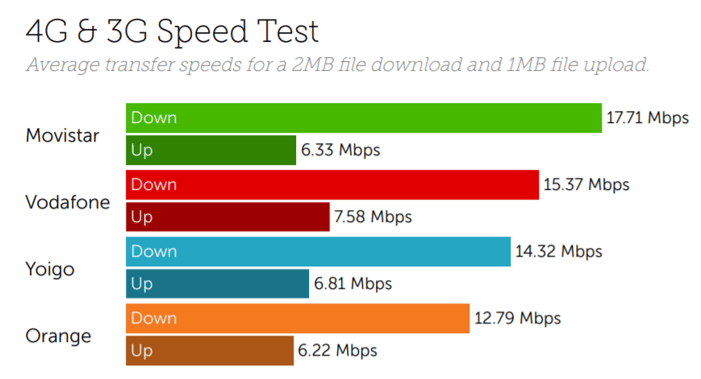 Vodafone lead upload speeds for June
With average upload speeds on 4G of 8.79Mbps, Vodafone lead our upload speed chart, ahead of Movistar, Yoigo and Orange. Vodafone also lead our latency results for June with an average score of 26.6ms on 4G.
Similarly to Telefónica, Vodafone have also invested heavily in the recent spectrum auction, investing 198.1 million euros in total, to acquire 90 Mhz of spectrum. Vodafone plan to use the additional spectrum capacity to deploy 5G services "enabling Gigabit speeds and lower latency" across the country.


Movistar perform best for network stability
With the lowest results for average jitter and packet loss across the month, Movistar demonstrate the best network stability of the top four networks in Spain.
Orange, who also came away with 60 MHz of spectrum having invested 132 million euros, place fourth for network stability with the highest results for jitter and packet loss of the group.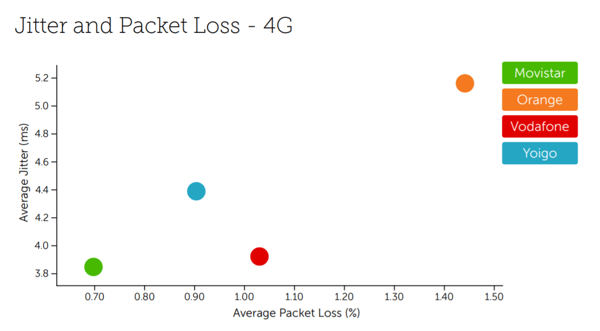 Our findings for Spain are based on 27.9 billion network quality measurements including 2.37 million speed tests in June 2018. Our latest complimentary Mobile Experience Report is available to download from the Tutela Insights portal.
Get the full report
Access Tutela Insights to view this complementary report in full