October 2018
In our September 2018 report for the UK, EE remained on top, but all four carriers saw improvements in their 4G download speeds. Three achieved an average LTE download speed of over 10 Mbps, while the Pixel 2 retained its place as the fastest handset.
EE retains its lead in download speeds
EE was the first network to roll out 4G in the UK, and its dominance for upload and download speeds on the 4G network has never truly been challenged. During the month of September, EE also began refarming its 2100MHz spectrum from 3G to 4G; the theoretical increase in speeds due to the availability of more spectrum for carrier aggregation and 4G availability may have contributed to the 3 Mbps increase in 4G download speed that EE has seen since our July report.
Vodafone, O2, and Three all saw improvements in average 4G download speed in September, with Three breaking the 10 Mbps bar. Three also had the fastest 3G download results for the month.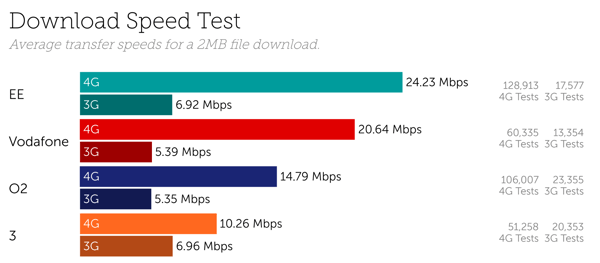 EE tops upload speed, but networks remain close
The order of the four networks -- EE, Vodafone, O2, and Three -- is the same for upload speed as download speed, but the difference between first and last place is less pronounced. EE's first place came with an average 4G upload speed of 11.76 Mbps, with Vodafone seeing a 10.31 Mbps average, O2 a 9.32 Mbps score, and Three 7.82 Mbps. The 3G upload speeds were a little over 2 Mbps for all four carriers. Latency, also calculated in our report, was close to 20 ms on 4G for all carriers.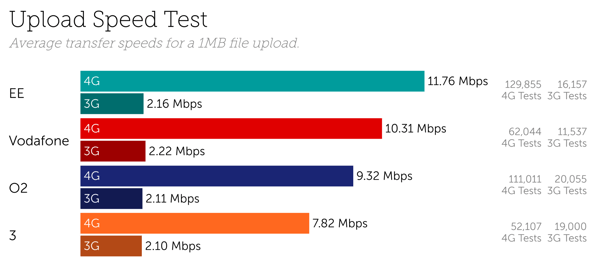 Device download: Year-old Pixel 2 stays on top
Despite being a year-old device, Google's Pixel 2 stayed at the top of our device download performance for average 4G download speeds. The Pixel 2 features LTE-Advanced technologies like 4x4 MIMO, 3xCA, and 256 QAM download, resulting in a theoretical peak speed of 800 Mbps.
Although that theoretical peak isn't seen in the real world, the inclusion of the latest wireless technologies gives the older Pixel 2 the edge in most situations. Lab testing shows that the Pixel 2 still beats out Apple's just-released iPhone XS for LTE performance, and can keep up with the newer Samsung Galaxy Note 9. Although the September report doesn't yet have data on the Pixel 2's real-world performance against those devices, it does still hold onto the top spot, beating out devices like Samsung's Galaxy S9 Plus.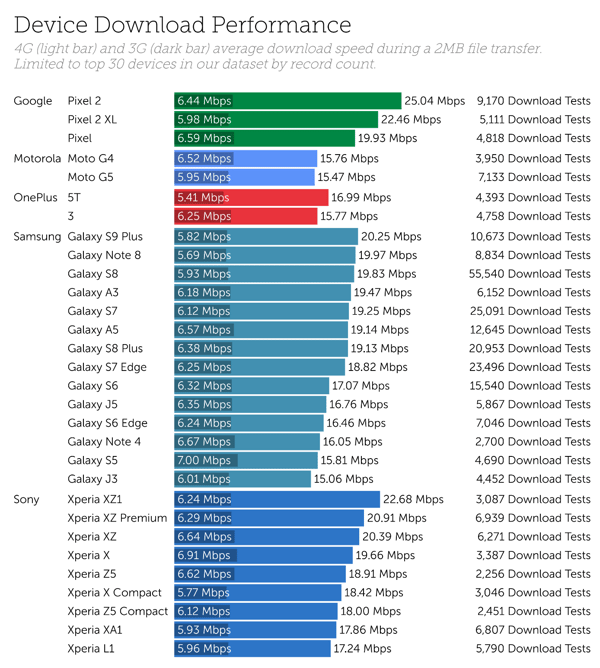 Our findings for the UK are based on 12.7 billion network quality measurements including 899,000 speed tests in September 2018. Our latest complimentary Mobile Experience Report is available to download from the Tutela Insights portal.
---