August 2018
With average download speeds of 21.36Mbps, EE continue to top our research findings from data collected in July. Vodafone follow in second place with average download speeds of 16.72Mbps across both 3G and 4G, before O2 at 12.15Mbps and finally Three, who average just 6.96Mbps across the whole of the UK.
Along with their superfast download speeds, EE have also recently launched a superfast smartphone delivery service, promising same day delivery initially within Greater London, together with personalised set up to help customers get the most from their devices.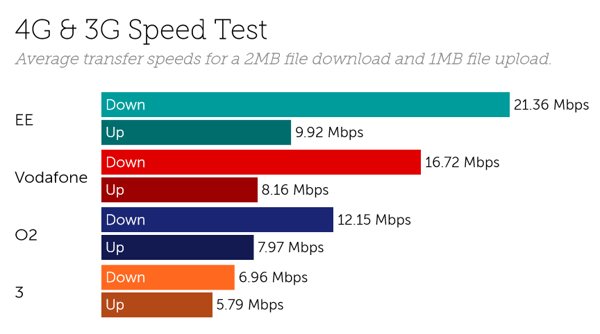 Vodafone perform best for latency
Inching ahead of both EE and O2 who are tied for second place with average latency results of 21.3ms on 4G, Vodafone lead our latest latency chart with results of 20.1ms.
Vodafone customers will also be pleased with the announcement that they're now able to use their data, calls and texts in an additional 29 countries, including the US, Canada and South Africa without any extra cost. The announcement comes as Vodafone expands its Roam-further service.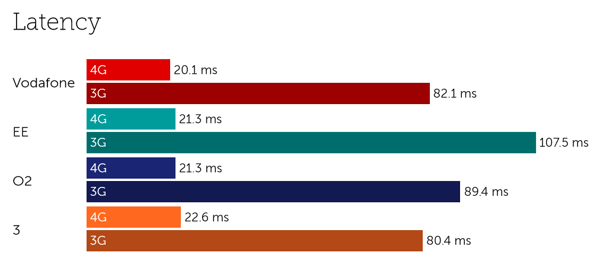 Vodafone top network stability findings
With the lowest results for jitter and packet loss, Vodafone also top our network stability findings for July. Although O2 are let down by their high packet loss, we have seen notable improvement gains impacting on download speed performance, with increases in Newcastle, Leeds, Nottingham and London thanks to their spectrum win in April. For further city by city analysis of the UK, check out our previous research report on the UK.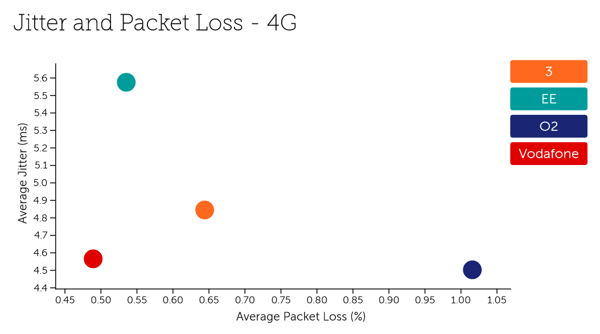 Our findings for the UK are based on 3.11 billion network quality measurements including 314 thousand speed tests in July 2018. Our latest complimentary Mobile Experience Report is available to download from the Tutela Insights portal.

---