July 2018
From London to Liverpool, and Bristol to Birmingham, each city in the UK is unique in its own way, but whether home to the Queen or the Beatles, the need to be connected is no longer a just a nice to have, it's a necessity - so we asked ourselves, 'which network is the best in the UK and how could this change over the coming year?'
The good news is that, overall, network speeds are on the rise, with 4G+ and soon to be 5G capabilities, lagging networks will one day be a thing of the past. However for the time being at least, we all know the feeling of spending too much time staring at the buffering wheel, so we've dug into the detail to analyze the current state of UK download speeds and picked out some key changes certainly worth paying attention to.
---

Key findings from our testing in May:
EE quickest overall network for the UK
Vodafone overtake EE in major cities
O2 improving performance thanks to spectrum win

---
To understand which mobile operators are performing best and why, we ran approximately 65,000 mobile speed tests in May and calculated the average speeds users are getting through each network. We test mobile networks in a way that represents the day-to-day usage and experience of real-world mobile users, such as accessing websites or downloading and sending images (not the maximum potential speeds under test conditions), so we can see what a typical user is experiencing on any given network.
And the winner is?...
Overall EE came out on top, with average speeds across England, Scotland and Wales at 24.9Mbps. As the largest network in the UK, formally both Orange and T-Mobile, EE have consistently appeared at the top of our download speed tests, but competition is close behind.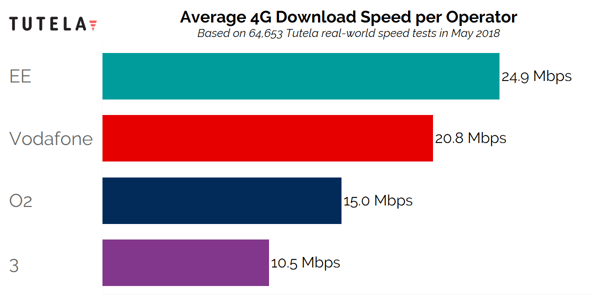 47% world cup data usage boost (England v Croatia game)
Thanks to growing download speeds, mobile data usage is certainly on the rise. EE expected to see an 'all time peak' in network demand for England's semi-final match against Croatia this July, as more and more users tune in on their mobile devices. For those in England, we saw a 47% increase in data usage across all mobile networks during the match, in comparison with the average for the day, no doubt made up of users streaming the game, but also sharing videos and calling loved ones after that heartbreak ending.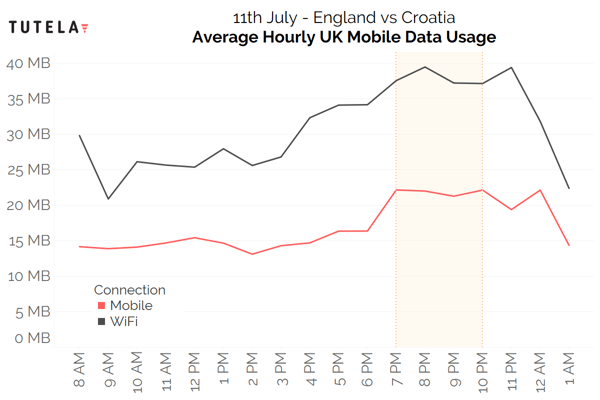 Who's knocking on the door?
EE are followed closely by Vodafone in almost every major city and, according to our latest findings in May, have been overtaken in Bristol, Glasgow, Manchester and London, where Vodafone edged into the lead.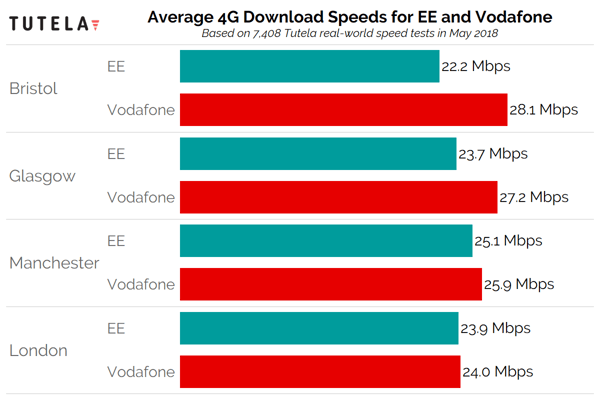 What about O2 and Three?
Consistently third place in the rankings, O2 are certainly catching up, perhaps thanks to their big win at the latest spectrum auction in April. Having invested £523.6m altogether, £206m to boost 4G network performance and the rest earmarked for 5G development. We have seen notable improvement gains by O2 impacting on download speed performance with increases in Newcastle, Leeds, Nottingham and London so far, and with many more planned for the year ahead.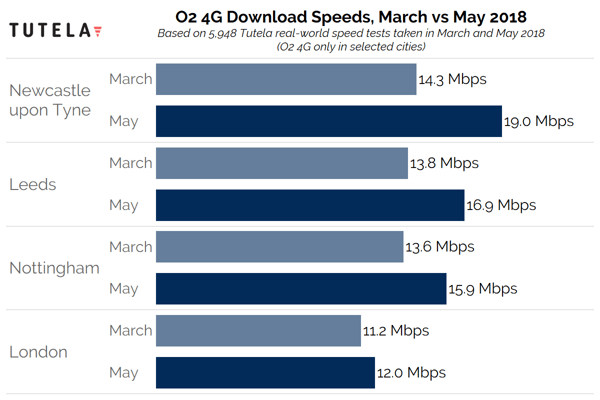 Sadly Three are sat in 4th place across the majority of the nation, and having only come away with 20Mhz of 3.4GHz spectrum at the latest auction, there's little to suggest huge movements in the near future. With average speeds across the UK of just 10.5Mbps, Three have a long wayto go to rival EE, Vodafone and even O2.
---
Discover more of our data insights for the UK, and across the world, by joining Tutela Insights today.