November 2018
The rollout of 5G networks is set to begin in earnest in 2019, and network operators and equipment vendors worldwide are bracing for the transition. Spain is no exception: some network operators are already running 5G trials, and the government is working to clear and auction more spectrum to help handle the increase in data volume 5G is expected to drive.
---
Key findings
800 MHz and 1800 MHz provide the majority of Spain's LTE coverage
Yoigo's lack of low-band spectrum hurts its rural coverage; delay in 700 MHz auction will exacerbate the problem
Movistar's investment in mid-band LTE paves the way for 5G
---
Examining current LTE networks
Across the country, Spain's four network operators use four primary bands to handle the majority of LTE data. The mid-band 1800+ MHz spectrum and low-band 800 MHz spectrum transfer the bulk of mobile data packets, with 2100 MHz and 2600 MHz helping out in dense areas.
Diverse spectrum holdings are key to building a network with sufficient coverage and capacity; looking at Spain's network coverage and performance on a band-by-band basis can illustrate why effectively.
The map below shows the location of over 56 million measurements, sorted by LTE band, collected in the last 30 days by Tutela. As such, it's a proxy for LTE availability by band, and can visually demonstrate how different spectrum is used.
Difference in coverage by LTE band (all operators)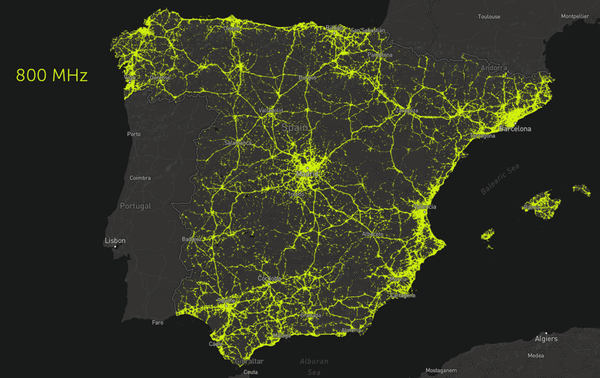 Lower-band spectrum travels further and penetrates buildings better, which explains why the 800 MHz spectrum has the best coverage across the country. In particular, it covers rural areas much more effectively than the mid-band 1800 MHz spectrum, making it a vital holding for any network that aspires to coverage outside of towns and cities.
As the frequency increases, the area covered decreases. (For more information on how Tutela can estimate actual landmass coverage by LTE band, see here.) The 1800 MHz spectrum, which carries over half of Spain's LTE data traffic, has noticeably worse coverage than the 800 MHz spectrum, despite being deployed at more cell sites.
The 2600 MHz spectrum, which is the highest frequency widely deployed in Spain, is being used to add additional capacity in high-traffic regions, including major cities and Spain's ever-popular coastline. Deploying more mid-band and high-band spectrum is going to be critical for the transition to 5G, but looking at the current LTE mid-band deployments shows how involved a process that will prove to be for Spain's operators.


5G and the move to mid-band
The immediate focus for 5G is on the 3.6 GHz to 3.8 GHz bands, licenses for which were auctioned by the Spanish Ministry of Economy and Enterprise (MINECO) last July. Telefonica, Vodafone, and Orange spent a collective €438 million on licenses for the mid-band spectrum, which is expected to be deployed starting in 2019. Vodafone has announced that it's already running non-standalone 5G tests on the spectrum in six Spanish cities this year.
Movistar average download speeds by LTE band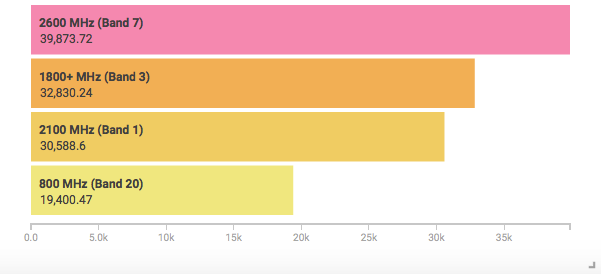 Mid-band and high-band spectrum will be vital for achieving the capacity and throughput speeds that 5G promises to bring. Again, we can see this in the 4G data: Movistar has the fastest average LTE speeds in Spain, thanks to migrating its mid-band and high-band spectrum to 4G faster than some other operators. The additional capacity of spectrum in the 2600 MHz and 2100 MHz bands reduces congestion on the workhorse 1800 MHz and 800 MHz bands, allowing for a consistently fast connection.
In addition to the mid-band spectrum, Spanish operators are also anticipating an auction of more "beachfront" low-band spectrum, specifically the 700 MHz frequency that's currently used for digital terrestrial television services. The auction was tentatively planned for the first quarter of 2019, but the Spanish Director General of the Ministry of Economy and Enterprise announced last week that the auction will be delayed until 2020.
Although the attention for 5G has been on mid-band and high-band spectrum, as that's where much of the innovation in advanced radio technology has come, low-band spectrum will still have a critical role to play. As we can see from the existing LTE infrastructure, low-band spectrum provides a backbone -- and a consistent command and control frequency -- for the rest of the network.
An example of the potential for integrating low-band spectrum into a 5G network can already be seen in the US: T-Mobile purchased an average of 31 MHz of prime 600 MHz spectrum nationwide in 2017, and has been building out its holdings with 4G equipment that is also compatible with a 5G network. Compared to other operators that will be relying on mid-band and high-band spectrum for initial 5G deployments, T-Mobile should achieve much better 5G coverage from the beginning.


5G for some, or 5G for all?
Waiting until 2020 for the rollout of new 700 MHz spectrum won't delay the on-paper rollout of 5G networks in Spain, but it will limit the population covered. For some operators, the delay will be more significant than others.
Yoigo coverage compared to other operators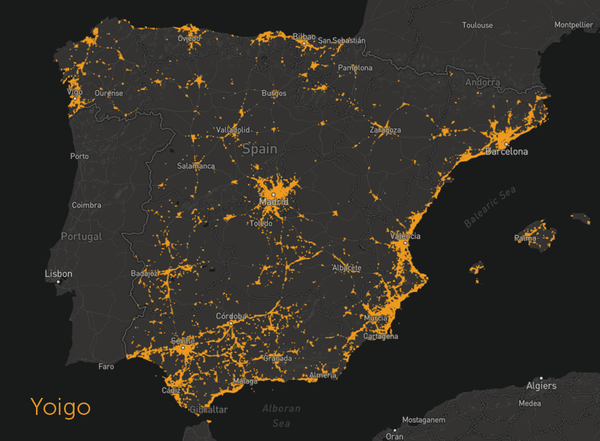 Orange, which already owns spectrum in the 800 MHz band, would likely use 700 MHz to add capacity in rural areas. Yoigo, however, relies on 1800 MHz and 2100 MHz for its network, and as can be seen from the map above, lacks any meaningful coverage in rural areas.
The transition to 5G provides an opportunity for operators to evaluate their networks, examine how spectrum is being utilized, and acquire more licenses to maximize coverage and capacity. The availability of new low-band spectrum at a moment when 5G networks are being built out would give Spain an opportunity to seize the lead in building out a nationwide 5G network faster than many other countries; delaying the TV migration (and subsequent auction) doesn't derail 5G plans, but will put a damper on the timeline.
---
Discover more of our data insights for Spain, and across the world, by joining Tutela Insights today.