July 2019
In the latest Mobile Experience Report for Norway, Telenor has shown to have the highest percentage for 'excellent' consistent quality and has improved its average download speeds. The company continues to leverage its stellar network results for its customers: In May, Telenor made its T-We streaming service available across Europe, allowing for video streaming on the go for its Norwegian customers.
Telenor leads excellent consistent quality metric, down 2.4 percentage points from April
In comparison to April's Market Snapshot for Norway, all three providers have decreased their results for the latest testing period. Telenor is down 2.4 percentage points to 89% 'excellent' consistent quality but still leads the ranking with the highest favorable result. Ice sits in second with 88.7%, and Telia is down 2.6 percentage points to 84.7%.

Telenor leads average download speeds
Telenor has shifted into top spot with the fastest average download speed at 25.12, with a 9.05 point improvement since the April report. Telia has a 1.34 decrease in its average download speeds, sitting in second with 24.77 Mbps. Ice has had a 5.05 increase in its average download speeds, from 16.19 Mbps last quarter to 21.24 Mbps.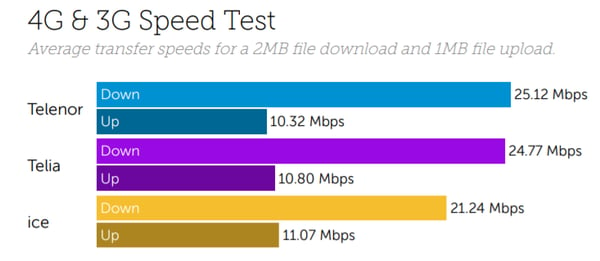 Ice average latency result stays the same
There has been no movement for ice, with its 4G average latency result staying the same as last quarter at 16.4 ms. Telenor has slightly increased it average latency result to 21.2 ms on the 4G network, as well as on 3G with 59.7 ms. Telia stays in third place with the highest latency result on the 3G network with 64.7 ms.

Our findings for Norway are based on 2.53 billion network quality measurements including 625,000 speed tests between April and June. Our latest complimentary Mobile Experience Report is available to download from the Tutela Insights portal.
---