April 2019
In comparison to Tutela's State of Mobile Networks Report for the Nordics, released earlier this year, Telenor have shown improved performance, inching ahead of ice to demonstrate the highest percentage for "excellent" consistent quality in our latest Mobile Experience Report for Norway.
Telenor lead "excellent" consistent quality
Despite ranking third for the fastest average download speeds across both 4G and 3G, Telenor inched ahead of ice to record the highest percentage for excellent consistent quality, thanks in part to its improved latency performance compared with the previous three month period. Telenor averaged 91.4% across the country, ahead of ice at 90.3% and closely followed by Telia at 87.3%.

Telia recorded the fastest average download speeds
Telia top our rankings for the fastest download speeds, averaging 26.11 Mbps across both 4G and 3G, significantly ahead of second place ice at 16.19 Mbps and third place Telenor at 16.07 Mbps. Telia reached average speeds of 28.17 Mbps across the country when we looked at 4G speeds only, a result that grew to 30.40 Mbps in Oslo and 28.49 Mbps in Akershus.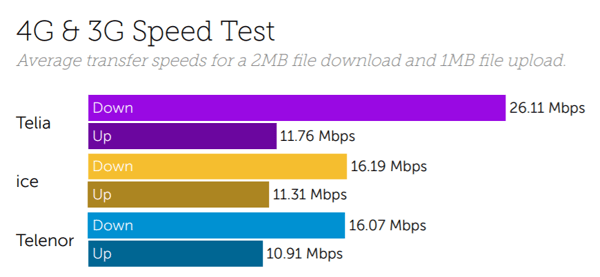 ice lead latency on 4G
Ice demonstrated the lowest latency on 4G, averaging 16.4 ms across the country compared with second place Telenor at 20.5 ms and third place Telia at 22.6 ms. This fell further for all operators in Oslo, where ice recorded a latency delay of just 13.7 ms on average.

Our findings for Norway are based on 2.53 billion network quality measurements including 586 thousand speed tests between January and March. Our latest complimentary Mobile Experience Report is available to download from the Tutela Insights portal.
---