January 2020
The Nordic region has long been a standard-bearer for high-quality wireless networks, and despite 2019 being a year of wireless disruption, the Nordics' place near the top of global standings remains unchanged.
Tutela's most recent Global Report put Norway, Sweden, Denmark, and Finland within the top 25 countries for mobile experience, as measured by Tutela's Excellent Consistent Quality metric. Whilst this report affirms the overall excellence of wireless experience across the region, it also highlights the differences that exist between some countries and operators.
In a year that has been dominated by news of 5G announcements and deployments, one critical observation is that early 5G action has not yet translated to widespread consumer benefits. Whilst some operators -- notably Elisa in Finland -- have commercially-available 5G service, Telenor Norway, the operator that performed best in almost every measured category, has not yet moved beyond the 5G pilot phase. This disconnect between 5G deployment and a measurable difference in performance is likely due to a relatively low 5G device penetration amongst users. As consumer and network adoption of 5G grows, some first-mover advantages may become apparent, but it is clear that in 2019, 5G hasn't moved the needle for network-wide mobile experience.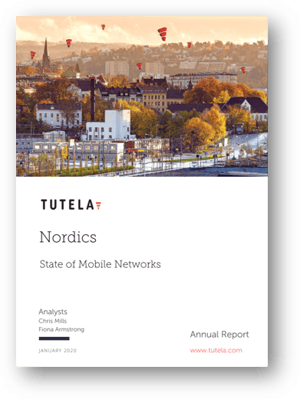 For this report, we gathered 1.6 billion records, including over 19 million speed tests and 240 million latency measurements, from over 760,000 devices (iOS and Android smartphones) between July 1st and December 31st 2019.
---