May 2019
TIM showed improved performance in Campania, taking the lead for both download speeds and latency, however Vodafone's rank improvements across the country has put it at the top of our "excellent" consistent quality metric for Italy, averaging 76.9% nationwide.
Vodafone lead "excellent" consistent quality across Italy
With an excellent consistent quality score of 76.9%, Vodafone top Tutela's latest chart for the best network performance across the country, based on crowdsourced data collected between February and April this year. TIM also score well for excellent consistent quality, representative of use-cases such as streaming HD video or making reliable group video calls, with a score of 73.7% nationwide. Wind and 3 placed in third and fourth position overall, but also scored well for "basic" consistent quality, suitable for performing tasks like browsing web pages, internet messaging and social networking. Click here to learn more about Tutela's consistent quality metrics.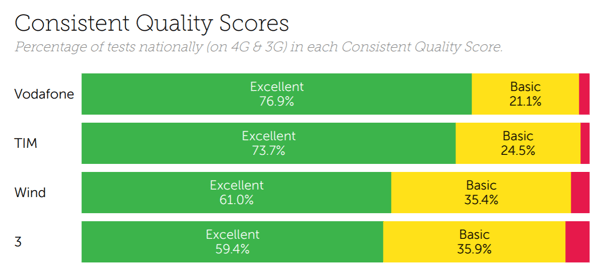 Vodafone inch ahead of TIM for download speeds
Our latest report for Italy shows Vodafone have overtaken TIM for average download speeds, compared with our previous Mobile Experience report based on data collected between November and January. Vodafone demonstrated average download speeds of 20.30 Mbps across the country, ahead of TIM at 19.20 Mbps, Wind at 11.75 Mbps and 3 at 10.16 Mbps. On 4G, Vodafone's average download speeds rose to 24.25 Mbps, and achieved average download speeds of 26.67 Mbps in Lombardy. It's only in Campania where we see TIM regain the lead, averaging 21.80 Mbps on 4G, ahead of Vodafone which scored 19.61 Mbps for the region.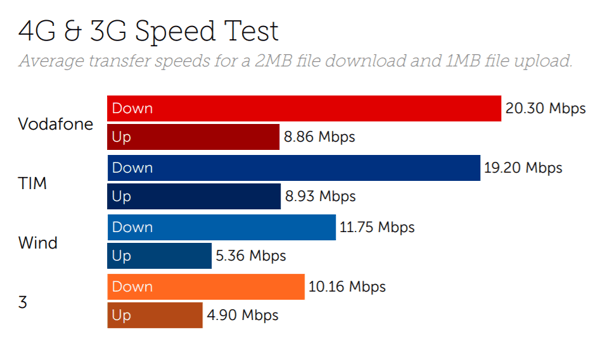 Vodafone also lead latency on 4G
With an average delay of 23.4 ms, Vodafone also take the lead for the fastest average latency. TIM's average score of 25.0 ms isn't far behind, and its result of 56.7 ms shows better performance than Vodafone for 3G only. Similar with our download speed results, TIM also inch ahead in Campania with an average result of 26.3 ms compared with Vodafone's 26.8 ms.

Our findings for May are based on 36.1 billion network quality measurements including 3.85 million speed tests between February and April. Our latest complimentary Mobile Experience Report is available to download from the Tutela Insights portal.
---