March 2019
Having invested heavily in Italy's 5G spectrum auction, TIM and Vodafone have signed a network sharing pact to enable effective 5G deployment. The two operators also lead our speed and latency tests, based on crowdsourced results between November and January. Together with Wind, all three operators also demonstrated improvements to network stability across the country.
TIM average fastest speeds
Across both 4G & 3G, TIM perform best of the Italian mobile operators for download and upload speeds. Averaging 20.68 Mbps for download speeds and 9.13 Mbps for upload speeds. TIM sit just ahead of Vodafone who averaged similar results of 19.82 Mbps and 8.84 Mbps respectively. Wind and 3 manage just half the speeds across Italy although both showed improved performance in Lombardy where they reached average 4G download speeds of 15.64 Mbps and 15.26 Mbps respectively.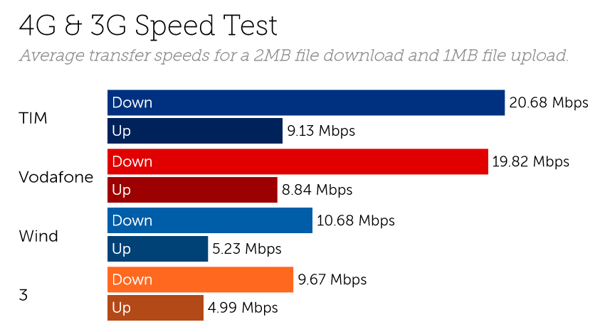 TIM and Vodafone lead latency
There isn't much to separate TIM and Vodafone for 4G latency in our latest market snapshot report, with TIM averaging 22.4 ms and Vodafone reporting 23.2 ms. Similarly to download and upload speeds, Wind and 3 sit somewhat behind, although 3 do demonstrate better performance for 3G latency, which moves it to second place in our rankings. In Lombardy, Vodafone manage to inch ahead of TIM, averaging 16.6 ms compared with TIM's 17.7 ms for 4G latency.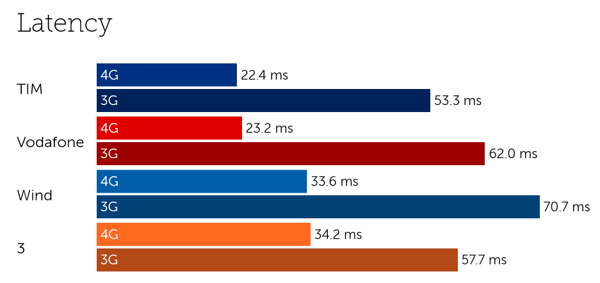 TIM, Vodafone and Wind all improve network stability
Compared with our latest market snapshot report for Italy, all operators except for 3 have demonstrated improved network stability results in the last three months. With TIM more than halving their average packet loss from approximately 0.64% to 0.31%. 3 are the only network to show an increase in packet loss, although their average jitter results between November and January did drop slightly.

Our findings for Italy are based on 24.8 billion network quality measurements including 3.27 million speed tests between November 2018 and January 2019. Our latest complimentary Mobile Experience Report is available to download from the Tutela Insights portal.
---