May 2019
Consistent with Tutela's State of Mobile Networks and City Performance reports for India, Airtel demonstrated the highest percentage for "excellent" consistent quality in our latest Mobile Experience Report for the country. Airtel also demonstrated the fastest average download speeds as Vodafone and Idea lead upload and latency.
Airtel lead "excellent" consistent quality across India
Based on data collected between February and April. Airtel's excellent consistent quality percentage of 51.9% puts them just ahead of Jio for reliability of use-cases such as streaming HD video or making reliable group video calls. All operators with the exception of BSNL Mobile scored relatively highly for "basic" consistent quality, suitable for performing tasks like browsing web pages, internet messaging and social networking - with Jio demonstrating the highest percentage of 98%. Click here to learn more about Tutela's consistent quality metrics.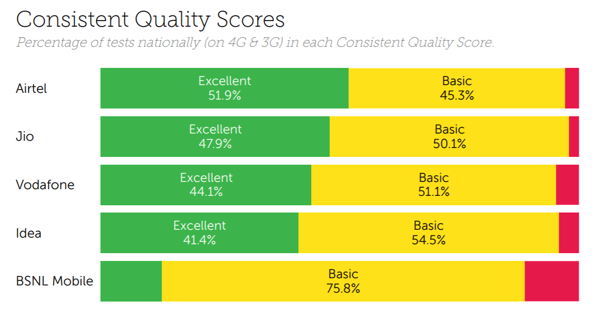 Airtel lead download speeds whilst Vodafone & Idea top upload
Across 4G and 3G, Airtel also lead Tutela's rankings for the fastest download speeds, with an average result of 7.85 Mbps. Jio and Vodafone sit just behind with average download speeds of 6.31 Mbps and 6.22 Mbps respectively, with Idea and BSNL placing fourth and fifth with average results of 5.68 Mbps and 3.45 Mbps. On 4G only, Airtel's average download speed averaged 8.65 Mbps across the country, rising even further to 9.77 Mbps in Maharashtra. Vodafone and Idea performed best for upload speeds, averaging 4.84 Mbps on 4G ahead of Airtel at 4.37 Mbps.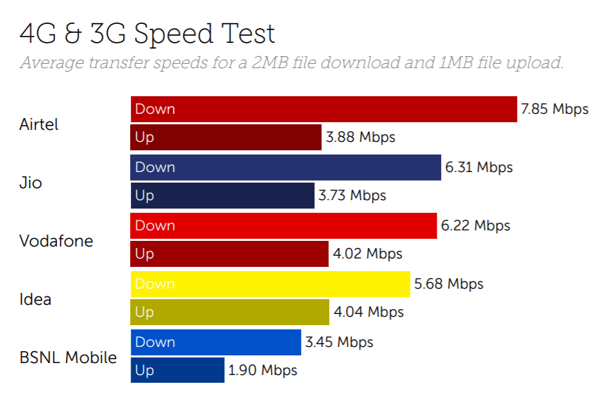 4G latency is close to call
With average delays of between 35.5 ms and 36.7 ms, Vodafone, Idea, Airtel and Jio all rank close to the top for latency. Across the country only BSNL Mobile falls behind averaging 42.7 ms on 4G and 86.3 ms on 3G. Airtel demonstrated improved latency in Maharashtra, averaging just 20.4 ms on 4G, whilst Jio inched ahead to take the lead in Uttar Pradesh with an average latency delay of 40.0 ms.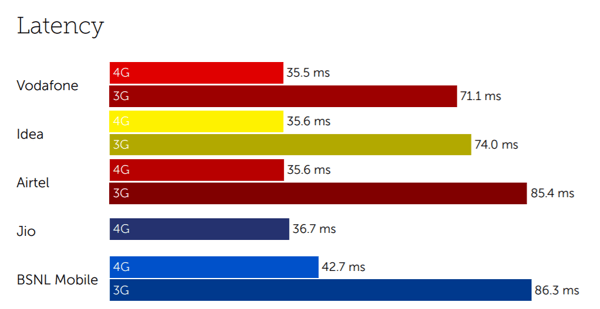 Our findings for India are based on 344 billion network quality measurements including 31 million speed tests between February and April. Our latest complimentary Mobile Experience Report is available to download from the Tutela Insights portal.
---