May 2020
In a way no one could have ever predicted, 2020 has thrown some curve balls at the world and challenged individuals and businesses to adapt to the current environment at incredible speed. This is particularly noticeable in the education sector. Teachers have had to quickly move all course work to online and rely not only on having access to reliable home internet themselves, but also on families to have the same. But what if you don't have access to reliable broadband based on your location? And can people rely on mobile network coverage as a solution?
In this report, Tutela has analyzed underserved areas by fixed broadband in the United States of America that have been identified by the FCC as eligible for the Connect America Fund, Phase II, and cross-referenced with its proprietary wireless network performance data. The result was the identification of at least 2.5 million underserved households that are in areas where a national operator provides an adequate network connection, opening up the ability to provide wireless hotspots to those in need. The report also provides a list of 38 counties where all four operators offer adequate connection, which may help inform initial hotspot roll-out strategies.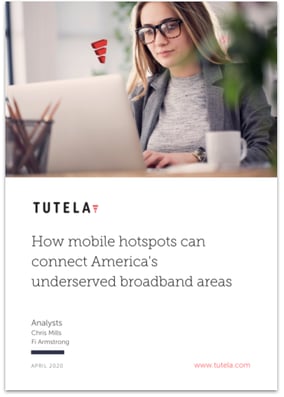 Download the full report here.
In addition, to find out more about Tutela's free solution for regulators, click here. US operators and regulators can also contact analysis@tutela.com to find out more about the report methodology and request the full list of counties where mobile hotspots can support underserved households.