April 2019
Despite recording the slowest 4G download speeds across the country, Tigo's leading latency results for the quarter have helped it deliver consistent performance in Guatemala, placing first for "excellent" consistent quality, 21.4 percentage points ahead of second place Movistar.
Tigo top "excellent" consistent quality
All three mobile operators in Guatemala recorded basic consistent quality scores in the 90% range, proving their networks are suitable for performing tasks like browsing web pages, internet messaging and social networking the majority of the time. Tigo also recorded the highest excellent consistent quality across the country, representative of more demanding use cases such as streaming HD video or making reliable group video calls, with a percentage of 57.5% between January and March. Click here for an explanation of Tutela's consistent quality metrics.

Movistar recorded the fastest average download speeds
Although placing second for excellent consistent quality, which also measures network stability and latency, Movistar did perform best for download speeds in Guatemala - with an average speed of 10.38 Mbps across both 4G and 3G. Tigo ranked second averaging 7.91 Mbps, closely followed by Claro at 6.83 Mbps. However in Quezaltenango, Claro improved its performance topping our rankings for 4G download speeds, averaging 11.48 Mbps ahead of Movistar and Tigo respectively.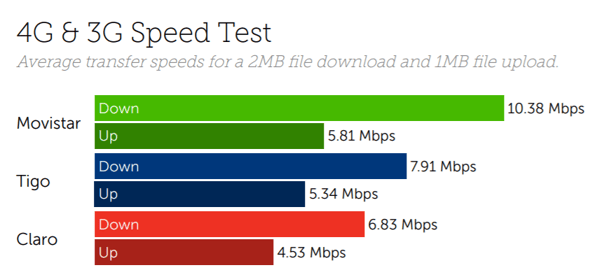 Claro lead upload speeds

As well as leading download speeds in Quezaltenango, Claro also performed best for 4G upload speeds across the country, averaging 8.87 Mbps, an improvement of 2.33 Mbps compared with our September 2018 Mobile Experience Report. Movistar and Tigo, who both also improved their upload speed results compared with last year, placed second and third respectively.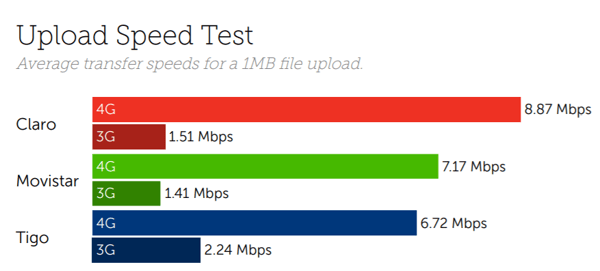 Our findings for Guatemala are based on 3.8 billion network quality measurements including 756 thousand speed tests between January and March. Our latest complimentary Mobile Experience Report is available to download from the Tutela Insights portal.
---