Movistar and Claro continue to lead speeds in Guatemala as Tigo top our latency tests from September. We've noticed only small differences regionally, as Claro perform well for latency in Quezaltenango and Tigo demonstrate the best 3G performance for upload speeds across the country.
Movistar deliver fastest download speeds
Movistar, who have recently activated LTE-A service in Guatemala, lead average download speeds across both 3G and 4G, with a score of 10.10 Mbps based on our real-world tests from September. The improved service offers maximum download speeds of 300 Mbps, meaning we should see improved results in our end of year tests.
Tigo place second averaging 7.20 Mbps and Claro sit third, with average results of just 4.75 Mbps. Claro look to close the gap on second place Tigo when we look at 4G results only, but still place third with average results of 8.77 Mbps and 9.65 Mbps respectively.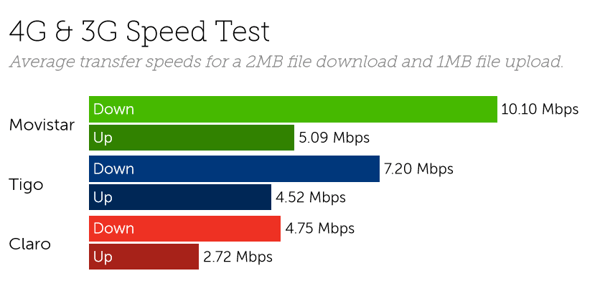 Claro lead upload speeds on 4G
Claro take the top spot for the fastest average upload speeds in Guatemala, with a result on 4G of 6.90 Mbps, closely followed by both Movistar and Tigo who each scored 6.66 Mbps and 6.13 Mbps respectively. Tigo perform much better on 3G for upload speeds, averaging 2.26 Mbps across the country and placing first amongst the group of operators.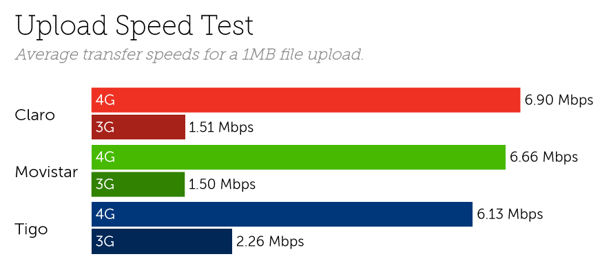 Tigo top latency on 3G and 4G
Marginally ahead of Claro, Tigo is the operator with the best latency in Guatemala, with an average result of 50.2 ms on 4G and 113.0 ms on 3G according to our September results. Claro place second, and Movistar third, except for in Quezaltenango where Claro jump ahead to claim first place with an average latency score of 49.8 ms on 4G.

Our findings for Guatemala are based on 2.77 billion network quality measurements including 306 thousand speed tests in September 2018. Our latest complimentary Mobile Experience Report is available to download from the Tutela Insights portal.
---
Subscribe to our latest insights
Access Tutela Insights to view this complimentary report in full and subscribe below to get our latest insights in your inbox each week.