March 2020
In the first State of Mobile Networks for France, Tutela examines operator performance in this fast paced industry. France may have the third largest telecoms market in Europe but it appears operators and its regulators have been slow to adopt new technology ventures.
In the early days of January 2020, the French regulator Arcep opened up the first phase of the 5G spectrum application process to operators, essentially becoming the last nation in Europe to start the process while other countries around the world had begun preparations and deployment last year. Despite this, 5G is still a long way off from being usable to all consumers so France may stand to benefit from the additional experience gained by watching other nations work through the early-stage difficulties of fast adoption. Tutela's latest Global Mobile Experience report also showed France in 29th place globally for Excellent Consistent Quality, beating such countries as Germany, United Kingdom and USA.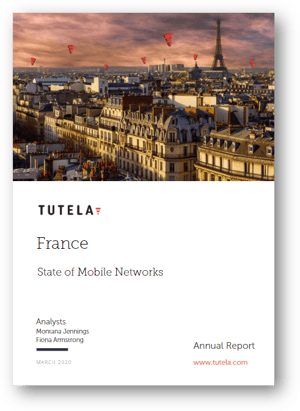 In this State of Mobile Networks report, Tutela has collected and analyzed over 125 million speed tests, 1 billion latency tests, and over 7 billion total mobile records between August 1st 2019 and January 31st 2020 to build a complete picture of mobile network experience across the country.
---