July 2020
Whilst countries across Europe have taken different approaches to dealing with the COVID-19 pandemic, one tool is proving vital across the entire region: connectivity. Fixed networks have seen an increase in traffic due to lockdowns and social isolation, but mobile networks have continued to be critical during this uncertain period.
At the same time, progress continues to be made on 5G, a topic that dominated conversation in the wireless industry in 2019. Switzerland has a mature 5G landscape with widespread deployments, whilst operators in Germany are on the forefront of pioneering technologies like dynamic spectrum sharing, which will help 4G and 5G coexist. Wireless improvements haven't been immune to COVID-19, however. Austria's second 5G spectrum auction, which was supposed to occur in April, has been delayed, and infrastructure upgrades and new deployments will be hindered by restrictions on movement and work.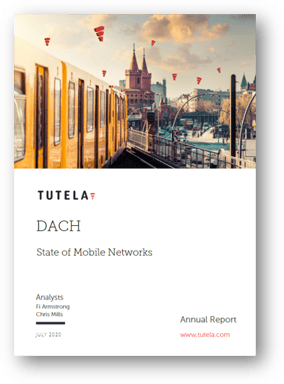 To evaluate how wireless networks are performing, Tutela has analyzed over 7.4 billion total records, including over 83 million speed tests and 1.02 billion latency measurements, collected from October 1st 2019 to March 31st 2020.


---