November 2019
Belgium, the Netherlands, and Luxembourg all finished within the top 10 in Tutela's recent global ranking of mobile experience, cementing the Benelux region's status as a global powerhouse in mobile network excellence. Although the three countries finished near each other for Excellent Consistent Quality, Tutela's signature metric for mobile experience, some significant differences are revealed when looking at the region operator-by-operator.
Belgian subscribers are amongst the lowest users of data in Europe as it currently stands, but their appetite is growing quickly: Orange Belgium's launch of unlimited plans led to a 77% growth in mobile data last year, according to consultancy tefficient.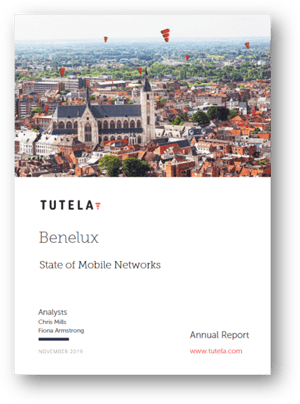 To better understand Benelux's mobile networks, and how they perform from the consumer's perspective, Tutela has collected and analyzed 1.4 billion records, including over 13 million speed tests and 165 million latency measurements, from over 3.8 million devices (iOS and Android smartphones) between April 1st to 30th September 2019.