May 2019
As Movistar invest in deploying LTE-M and NB-IoT across the country, its Personal that perform best for excellent consistent quality in our latest Mobile Experience report for Argentina. Personal also lead download and upload speeds, averaging 12.90 Mbps in Santa Fe, whilst Movistar perform best for latency.
Personal lead "excellent" consistent quality across Argentina
Between February and April, Personal recorded the highest percentage for excellent consistent quality at 72.9%, ahead of both Movistar and Claro which scored 64.6% and 62.4% respectively. Both Personal and Movistar scored close to 100% for basic consistent quality, suitable for performing tasks like browsing web pages, internet messaging and social networking, with Movistar actually recording a result 0.1% higher than Personal. Click here for an explanation of Tutela's consistent quality metrics.

Personal overtake Movistar for download speeds on 4G and 3G
With an average download speed of 11.78 Mbps across the country, Personal overtake Movistar for the fastest download speeds in Argentina, compared with Tutela's previous Market Snapshot in March. Personal recorded the highest download speeds in Santa Fe, averaging 12.90 Mbps, significantly ahead of second place Claro at 9.04 Mbps for the region. Personal also scored highest in Buenos Aires and Córdoba, with average results of 12.69 Mbps and 11.13 Mbps respectively.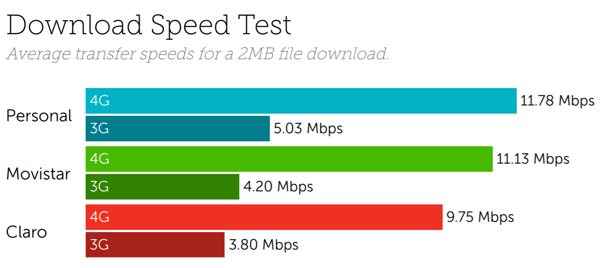 Movistar inch ahead for latency on 4G
4G results between February and April are close for latency, with just 0.2 ms separating first place Movistar from second place Personal across the country. Movistar averaged 32.8 ms and Personal 33.0 ms, with Claro, which placed third, only marginally behind with an average latency delay of 35.9 ms. Tutela's tests show a similar pattern in Buenos Aires and Córdoba, with Personal equaling Movistar in Sante Fe to tie first place.

Our findings for Argentina are based on 66.6 billion network quality measurements including 6.21 million speed tests between February and April. Our latest complimentary Mobile Experience Report is available to download from the Tutela Insights portal.