August 2019
Tutela is committed to helping improve the world's internet. It's a purpose that shapes everything we do – from the way we measure network performance through to the types of research we produce. However, we know we can't do this alone, so Tutela has created a new whitepaper and launched a new complimentary service for regulators to assist them with monitoring the quality of the mobile networks they oversee.
Around the world, we see regulators advocating for citizens by setting and enforcing coverage obligations as part of government contracts or spectrum license conditions. Historically, many have relied on propagation models or smaller datasets to monitor if these obligations have been met. Adding crowdsourced data from over 300 million devices worldwide provides an invaluable companion dataset to show not just where coverage is, but also how reliable it is, and how consumers are actually experiencing their mobile networks.
Tutela's regulator offering provides insight into mobile network operator performance using crowdsourced measurements that show how mobile users are experiencing the internet - both on cellular network and when connected to WiFi. For regulators, on a complimentary basis, Tutela provides:
A database service with data showing network quality performance across the country, split by operator with regular updates. The data service can be integrated into regulators own data analysis tools (such as mapping tools) and other monitoring systems


Analytics dashboards that enable operators to rapidly analyse the results, using a powerful analytics tool


A set of pre-built analyses and reports showing network performance and potential problem areas


---

Alongside today's launch of Tutela's regulator offering, we have also worked with Professor William Webb, CEO of Webb Search Limited, formerly President of the Institute of Engineering and Technology, and Director of Technology Resources at UK regulator Ofcom, on how crowdsourced data can be used to improve verification and create better mobile networks throughout a region. Key themes in the whitepaper include: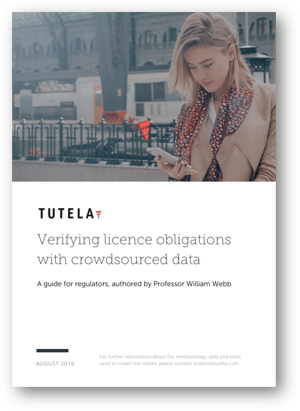 The challenges of relying solely on prediction models to accurately determine network coverage


Ways crowdsourced data can support and inform licence obligation monitoring for regulators


Additional research areas where regulators can find value in crowdsourced data, such as benchmarking success with new frequency deployments, or analyzing network congestion
Download the full whitepaper here.
Tutela's regulator offering is already used by a number of regulators around the world, and is now available directly to regulators, subject to terms and conditions. For more information, contact regulators@tutela.com.
---