Having recently announced its plan to bring one of the first commercial 5G devices to market in the first half of 2019, Verizon also continues to lead our download speed tests, based on crowdsourced data collected in October. T-Mobile performs best across the US for upload speeds and AT&T demonstrates good network stability across the country.
Verizon continues to top download speeds
Across both 3G and 4G, Verizon places first in the US for the fastest average download speeds, with average results from October of 21.34 Mbps. AT&T places second, averaging 15.29 Mbps, followed by T-Mobile at 10.83 Mbps and then, Sprint which averaged just 8.68 Mbps. On 3G, T-Mobile takes the lead for download speeds, ahead of AT&T, Sprint, and Verizon respectively, except in California where it drops to third place.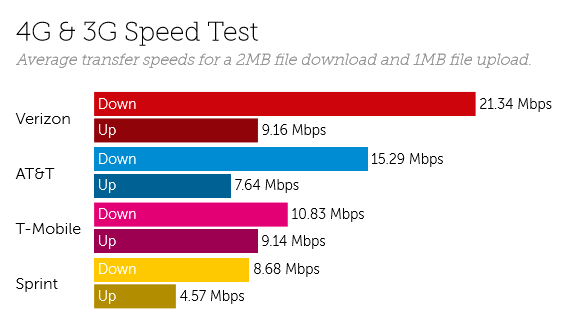 T-Mobile inches ahead on upload speeds
On 4G, T-Mobile scored average results of 9.42 Mbps for upload speeds, putting it just ahead of Verizon at 9.22 Mbps. AT&T ranks third with 7.87 Mbps and Sprint takes fourth place with average upload speed results of just 4.62 Mbps. Our results for October show a similar pattern in California, Texas and Florida, with T-Mobile taking the lead in all three states for 4G speeds, and only dropping to second in California behind Sprint on 3G.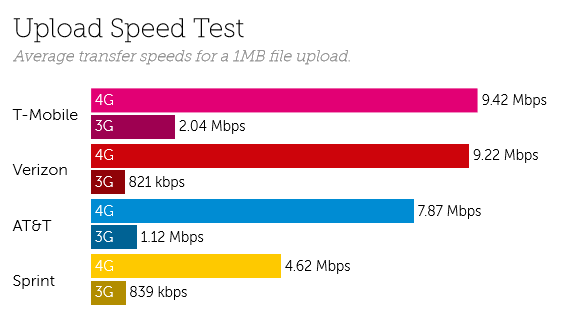 Verizon and AT&T perform well for network stability
Of the four operators in the US, Verizon and AT&T perform best for network stability, with the lowest average results for jitter and packet loss in October. T-Mobile also performed well for jitter, but was let down by its high records for packet loss in the month.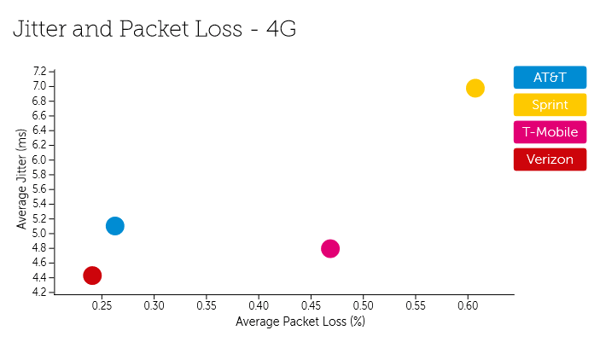 As the review and approval process for the T-Mobile and Sprint merger slowly moves along, we've also looked at how a combined spectrum capacity could impact on performance for the operators. You can read more about our findings here.
Our findings for the US are based on 120 billion network quality measurements including 11.4 million speed tests in October 2018. Our latest complimentary Mobile Experience Report is available to download from the Tutela Insights portal.
---
Subscribe to our latest insights
Access Tutela Insights to view this complimentary report in full and subscribe below to get our latest insights in your inbox each week.