April 2019
Similarly to our latest cities report, which saw Verizon leading consistent quality in 7 of the 10 largest cities across the US, Verizon also performed best for "excellent" consistent quality country-wide in our Mobile Experience Report for the USA, based on crowdsourced data collected in March.
Verizon top rankings for "excellent" consistent quality
In March, Verizon recorded the highest percentage for excellent consistent quality, Tutela's measurement of network quality, representative of use-cases such as streaming HD video or making reliable group video calls, across the US. T-Mobile followed closely with a score of 76%, ahead of Sprint and AT&T respectively. All operators scored at least 97.5% for basic consistent quality, suitable for performing tasks like browsing web pages, internet messaging and social networking. Click here for an explanation of Tutela's consistent quality metrics.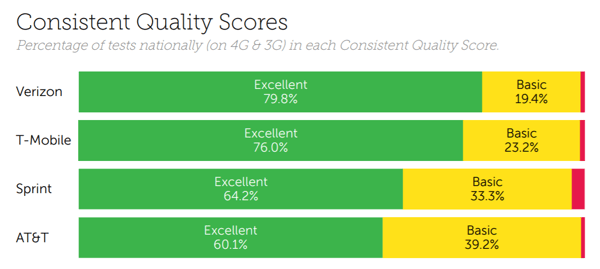 Verizon also lead average download speeds
Across both 4G and 3G, Verizon recorded the highest average download speeds of 19.86 Mbps, based on more than 3 million download tests on the Verizon network alone. AT&T follow in second place average 14.36 Mbps ahead of T-Mobile and Sprint with average results of 10.67 Mbps and 8.98 Mbps respectively. Verizon reach average download speeds of 19.99 Mbps across the country when we look at 4G speeds only, a result that rose to 22.92 Mbps in California.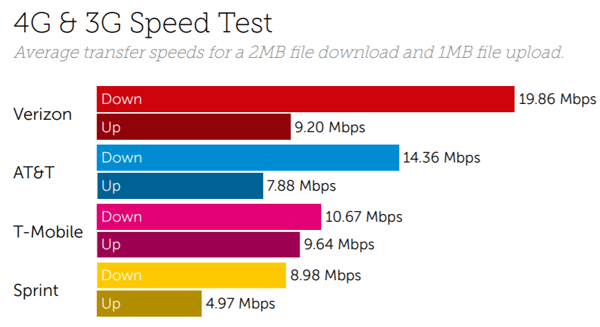 Sprint perform best for latency but suffer with jitter and packet loss
With a delay of just 27.5 ms on 4G, Sprint lead our latest latency tests across the US, although all operators sit within 1.3 ms of each other and there are substantial changes in rankings regionally, with T-Mobile, Verizon and AT&T each having their share of the lead. Tutela's network stability tests for March show those three operators with relative performance to one another, as Sprint demonstrate much higher levels of both jitter and packet loss on 4G.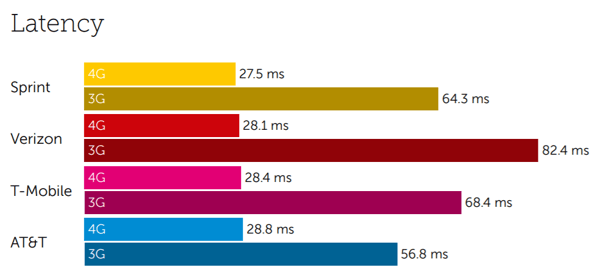 Our findings for the USA are based on 246 billion network quality measurements including 34.1 million speed tests in March. Our latest complimentary Mobile Experience Report is available to download from the Tutela Insights portal.
---