November 2017
Of the five major US mobile network operators Verizon tops download performance speeds for 4G infrastructure suggesting the operator is investing significantly in 4G technologies, possibly at the expense of 3G infrastructure.
This is particularly marked when compared to its 3G throughput performance given that it comes at the bottom of performance scores behind T-Mobile, Sprint, AT&T and Boost Mobile networks.
683 million records
But that said each of these operators registered relatively low 3G throughput speeds again suggesting that the overall network performance emphasis is firmly on 4G.
Between July 1 and September 30 2017 we collated and analysed over 683 million data records gathered from Android devices. Using a 2MB download and 1MB upload benchmark, reflecting an average user downloading a web page we assessed the throughput speeds of each operator across both 3G and 4G infrastructures.
4G Speed Test Results
(2MB download / 1MB upload)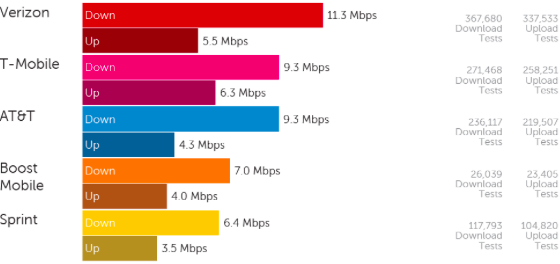 Verizon tops 4G downloads
Verizon achieved a 11.1 Mbps download and 5.5 Mbps upload on 4G infrastructure with T-Mobile coming in second at 9.3 Mbps upload and 6.3 Mbps.
However, the contrast with 3G performance was stark for all of the operators. Verizon however, was significantly notable. Verizon for instance registered 1.4 Mbps download and 817.2 kbps upload on it's 3G networks. We noted that users are spending a much higher proportion of their time on 4G networks and are getting a much better overall performance as a result.
3G Speed Test Results
(2MB download / 1MB upload)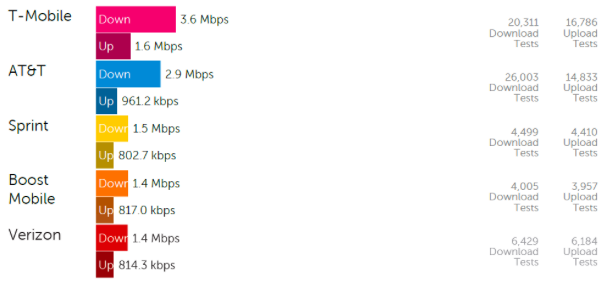 Join Tutela Insights to download the full report
---
About our testing
Tutela tests mobile networks by crowdsourcing anonymous sensor data from hundreds of millions of Android and iOS mobile users across the world. This enables us to collect billions of measurements every day and gain a real-world understanding of the mobile experience that mobile users are getting - not just in major towns & cities, but in all parts of the world.
Our testing methodology is designed to simulate typical user mobile behaviour, such as downloading a photograph or web page, rather than measuring the maximum performance, such as the peak download speed during a very large file transfer (which very few users will achieve) so that we can understand a typical user's experience.