September 2020
It's is hard to find a country where the telecoms stories of 2020 are not dominated by 5G and Covid-19, and the UK is no exception to this.
As the pandemic highlighted the importance of reliable connectivity, telecoms regulator Ofcom confirmed plans for a January 2021 auction of 700 MHz and 3.6-3.8 GHz spectrum to support 5G with up to a 20% increase in capacity, noting in the announcement how important it was "to make the spectrum available to mobile users without unnecessary delay." This spectrum will likely be pivotal in shaping the nationwide 5G landscape in the UK, with rare low-band available to support operators who have traditionally been limited in this space, usually in more rural locations, as well as significant 5G mid-band assets that will go to add capacity to operator's current and future urban deployments.
Meanwhile, Tutela's country-level mid-band 5G report, released in August this year, saw the initial results of 5G deployments in the UK. This highlighted two things – impressive performance increases, but ongoing coverage challenges. 5G device users in the UK saw download speeds over 120% faster on 5G than on 4G, but 5G coverage was only available from any operator in 1.3% of the geographic area tested.
Beyond the realms of these two overarching trends, however, the telecoms market in the UK has experienced its own significant disruption. For a start, the merger of O2 and Virgin Media in May highlighted the latest move towards telecom and media service convergence that echoes the 2016 tie-up between BT and EE. It is still early to speculate on the impact this will have on the market overall, with the merger expected to complete in mid-2021.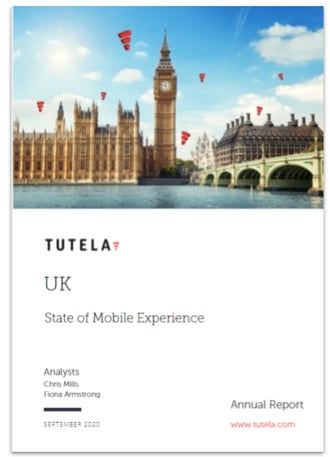 Meanwhile, the big four (O2, Vodafone, EE and 3) signed on to the Shared Rural Network plan, which aims to deliver 95% 4G geographic coverage by 2026. Achieving this will take unprecedented collaboration, but success in the project will no doubt see notable increases in rural subscriber mobile experience.
To evaluate the current mobile experience of subscribers on the big four, Tutela's 2020 State of Mobile Experience report evaluated over 180 million speed and latency tests, in the UK, from over 2 million devices collected between 1st March and 31st August 2020.