December 2018
Our latest crowdsourced report for the UK shows EE leading speeds and latency overall. However, both Vodafone and 3 disrupt the rankings, with Vodafone leading upload speeds and 3 leading download speeds on 3G. As Ofcom announce plans to offer more airwaves to mobile networks, most likely towards the end of 2019 or 2020, these networks could further close the gap on EE.
EE perform best for download and upload speeds
EE continue to lead our average download speed tests across both 3G and 4G, with results from the month of November of 24.03 Mbps. Vodafone averaged 18.43 Mbps followed by O2, at 13.67 Mbps and 3, at 9.49 Mbps. When we split the results for 3G and 4G, EE remain the leader on 4G but 3 take the lead on 3G, averaging 6.82 Mbps, just ahead of EE who scored 6.26 Mbps from our crowdsourced tests.
Our 4G upload speed results show a similar pattern, with EE performing best of the group and averaging 12.10 Mbps. On 3G however, Vodafone take the lead, with results from November of 2.29 Mbps ahead of EE, 3 and O2 respectively.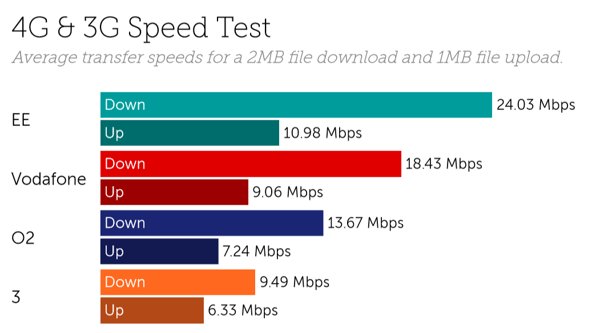 EE also lead latency on 4G
Averaging 16.4 ms on 4G, EE also lead our latest latency tests, followed by Vodafone, 18.2 ms, O2, 18.3 ms and 3, 19.7 ms. Similarly to our upload speed results, Vodafone perform best on 3G, closely followed by 3 at 46.1 ms and 46.7 ms respectively. In England and Scotland, O2 marginally overtake Vodafone for 4G latency - averaging 17.3 ms and 23.3 ms respectively, but fall back to third place in Wales, where Vodafone perform best, with a result of 17.8 ms.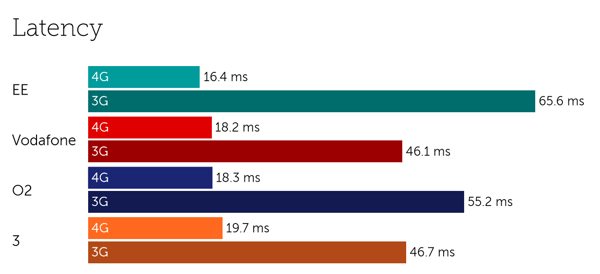 Vodafone and EE lead network stability
Although all four operators showed some degree of jitter and packet loss in our November tests, Vodafone and EE both came out best. Vodafone demonstrated the lowest average jitter from the month and EE recorded low levels of both jitter and packet loss. Although 3 also performed well for low packet loss, they are let down by the high levels of jitter recorded from our crowdsourced tests.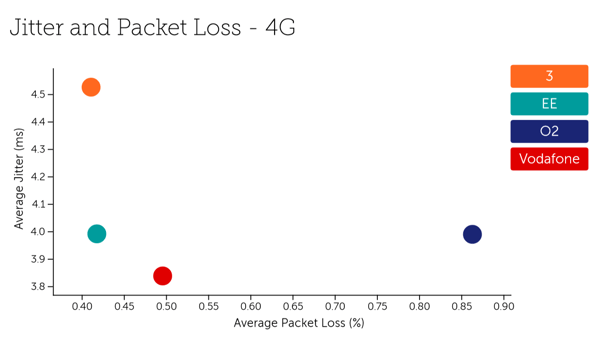 Our findings for the UK are based on 29.7 billion network quality measurements including 3.08 million speed tests in November 2018. Our latest complimentary Mobile Experience Report is available to download from the Tutela Insights portal.
---
Subscribe to our latest insights
Access Tutela Insights to view this complimentary report in full and subscribe below to get our latest insights in your inbox each week.