June 2021
As the pandemic confined people inside their homes and relying on their phones, laptops and network connection for work, study and social connections, telecoms operators felt a burgeoning pressure to provide quality services to their consumers' growing demand. In Turkey, all three operators saw an increase in their number of customers. Turk Telekom's mobile subscribers saw an increase of 103,000 net additions in Q1 and its average monthly data consumption per LTE user grew from 8.2 GB in Q1 2020 to 8.9 GB in Q1 2021.
Similarly, Turkcell had quarterly net additions of 599,000 and a year-on-year growth of 28.6% in average monthly mobile data consumption, while Vodafone mobile subscribers grew from 23.6 million in 2020 to 23.7 million in Q1 2021 with an increase of over 50 TB in total mobile data usage.
In order to cater to this increasing demand and provide reliable network experience, Turkish operators needed to take effective actions to boost capacity and improve subscriber experience. Several major improvement initiatives were undertaken by the three operators. On the 5G front, in 2019, permits were awarded to all the three operators for 5G trials in different frequency bands. In August 2020, Turkcell in collaboration with Ericsson, achieved Turkey's first 5G signal with a download speed of 2.283 Gbps. The trial was conducted on a 5G compatible device in the 3.5 GHz frequency band using 100 MHz bandwidth. This record was recently broken by Turk Telekom and Nokia reaching a speed of over 4.5 Gbps on 5G New Radio on the 26 GHz mmWave spectrum, using 800 MHz of bandwidth.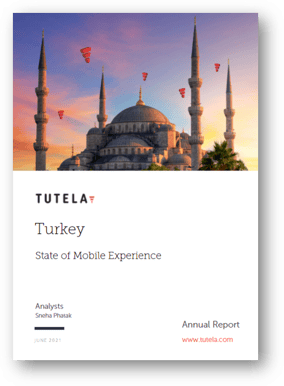 In order to benchmark mobile experience over the last six months, Tutela has evaluated over 2 million speed and latency tests, conducted on the smartphones of real-world users of national mobile operators within Common Coverage Areas, between November 1, 2020 and April 30, 2021.
---