August 2020
Whilst high-profile mmWave 5G deployments and wrangling over low-band nationwide 5G coverage have captured public attention, the reality remains that the majority of commercial 5G deployments use some variation of mid-band 5G. With the recent award of Priority Access Licenses for the US's CBRS spectrum, mid-band is set to be deployed much more widely in the North America, which makes understanding its potential and limitations more important than ever.
In this report, Tutela has looked at a selection of countries where mid-band spectrum is a critical part of operators' current 5G deployment strategies to evaluate some of the lessons early deployments can demonstrate as 5G gains momentum around the world.
South Korea has a significant lead over other countries when it comes to 5G coverage, with users spending more than 90% of their time in a 5G covered area

While geographic coverage with 5G is relatively sparse, it can still deliver coverage of areas where users spend significant amounts of time

When comparing the experience of users with 5G devices, subscribers in Saudi Arabia see the biggest percentage improvement on a 5G network in terms of user experience, while the UK sees the biggest percentage improvement to download speed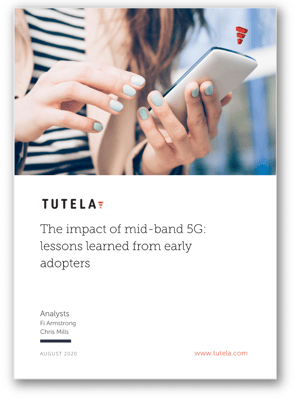 Notably, even South Korea, a country with a significant headstart over other nations, has achieved 5G coverage of less than 15% of its observed geographic footprint. Although operators have pledged to close the gap between 4G and 5G coverage in the coming years, the shortfall demonstrates the geographic limitations of mid-band 5G coverage, and the need for a multi-layer spectrum deployment to achieve truly capable, high-capacity nationwide 5G.