July 2019
To examine the country's mobile network performance, Tutela has analyzed three key metrics to identify the top providers in Sweden.
Across all four national providers, Tutela has found excellent consistent quality results in excess of 75%, measured across Q2 2019. 3 performed the best in our excellent consistent quality metric with a result of 85.1%. 3 also performed the best in the latency testing on the 4G network, but Telia ranked number one in the average download speed tests, with a result of 23.54 Mbps.
3 leads 'excellent' consistent quality
3 performed best for excellent consistent quality in our testing for Sweden with 85.1%. Telia came in a close second with an excellent result of 84.8%, Tele2 at 79.3%, and Telenor rounded out the excellent consistent quality results with 75.4%.
Overall, all four providers perform well in this testing, providing excellent consistent quality results that are among some of the best in Europe. For basic consistent quality, all four providers exceeded 99%, with Telenor taking first place.
You can learn more about Tutela's consistent quality metrics here.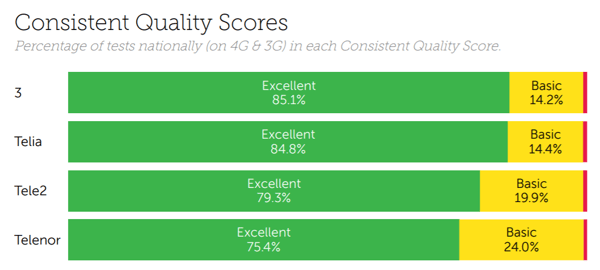 3 also performs best for latency test on 4G
Based on the crowdsourced data collected between March - May 2019, 3 came out on top for the best average latency result with 13.3 ms on the 4G network. On the 3G network, Telenor performed best out of the four providers with a result of 28.4 ms. However, its 4G result narrowly put it in fourth place.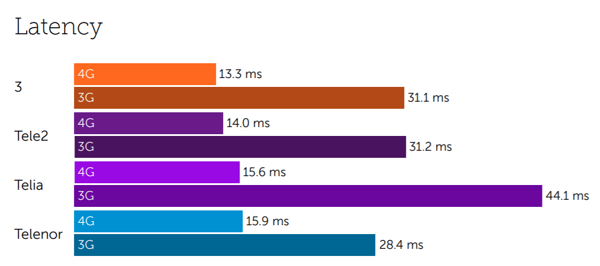 Telia performs best for average download speeds
Telia performs best across the country for its average download speeds on the 3G and 4G networks, with a result of 23.54 Mbps. The average upload speed for Telia also performs well, sitting at 10.24 Mbps. And as Telia's 5G partnership program continues to expand and is looking to launch 5G commercially in Sweden in 2020, there should be continued improvements to its performance.
Telenor sits in second place with an average download speed of 18.98 Mbps and an upload speed of 9.50 Mbps.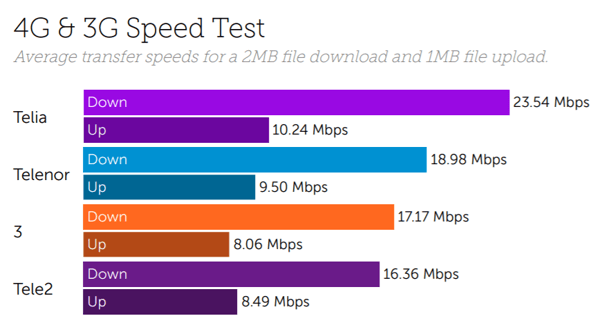 Our findings for Sweden are based on 7.51 billion network quality measurements including 1.45 million speed tests between March and May. Our latest complimentary Mobile Experience Report is available to download from the Tutela Insights portal.
---