June 2018
Movistar rocket ahead of the other 3 players in the Spanish market with speeds of 26.10Mbps in Andalusía and 25.35Mbps in Valencia on 4G. However Vodafone take the lead in Catalonia, with speeds of 28.45Mbps on 4G, approximately 12Mbps faster than their results in both Andalusia and Valencia.
Telefonica plan to launch a low cost phone and internet services in the Spanish market under their O2 brand later this year, rivaling cheaper brands such as MasMovil and Jazztel.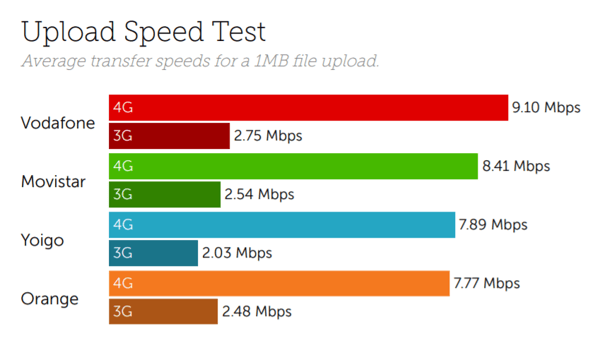 Vodafone top our upload speed test chart
With average speeds of 9.10Mbps on 4G, Vodafone lead our upload speed chart, marginally ahead of Movistar, Yoigo and Orange. Having invested heavily this year, Vodafone have announced their 4G network now covers 600 more beach resorts across the country, with the anticipation there will be a rise in demand over the summer period.

Movistar perform best for network stability
With the lowest figures for both average jitter and packet loss, Movistar have the best network stability of the group according to our latest report, also performing the best when we drill down to specific regions in Andalusia, Valencia and Catalonia.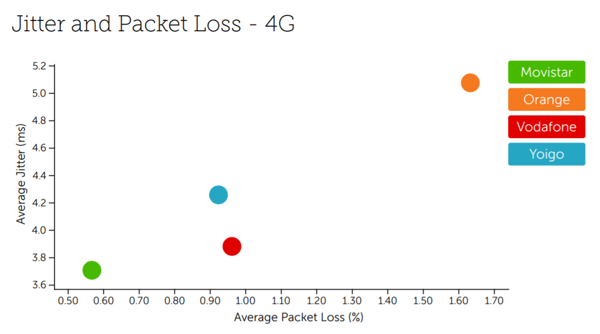 Our findings for Spain are based on 28 billion network quality measurements including 2.5 million speed tests in May 2018. Our latest complimentary Mobile Experience Report is available to download from the Tutela Insights portal.
Get the full report
Access Tutela Insights to view this complementary report in full