March 2021
The last decade has seen internet connectivity become almost ubiquitous across Southeast Asia, and the vast majority of users are primarily online via a mobile device. Previous studies have suggested that users in the region are some of the most likely to be performing critical tasks, like mobile banking or online shopping, on a mobile device.
Of course, the combination of rapid mobile device penetration and their utilization for critical tasks presents operators with a unique set of challenges. The mobile network experience for the majority of current users, which is primarily provided over 3G and 4G networks, needs to be maintained in the face of ever-increasing demand for mobile data. At the same time, operators need to ensure that their infrastructure is correctly aimed towards next-generation 5G networks. In the long run, 5G infrastructure (and more 5G-suitable spectrum) will be needed to provide the capacity and capability required for serving hundreds of millions of subscribers.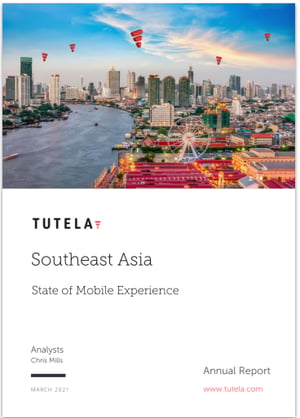 To measure how operators are performing in this challenging environment, Tutela collects and analyzes millions of measurements from real-world users to provide the most accurate picture of subscriber mobile experience possible. For this report, Tutela has analyzed over 55 million speed and latency measurements, conducted on the smartphones of real-world users of national mobile operators within Common Coverage Areas, between August 1st 2020 and January 31st, 2021.
---