January 2020
With 2019 now firmly in the rear-view mirror, mobile operators across the world are looking back and reflecting on what was achieved in a year dominated by a race towards 5G deployment. For South Africa, this has been less about being swept up in the 5G craze and more about staying alive in a tough market.
The battle for survival has been evidenced by two mobile networks signing a roaming agreement to expand Cell C's 4G network coverage, whilst in the same breath Cell C rejected a takeover bid by Telkom. Vodacom extended its 4G network to over 16 million people living in rural areas, and an inquiry by the Competition Commission of South Africa released its findings on the country having some of the most expensive mobile prepaid data prices in comparison to other countries within and outside of Africa(4).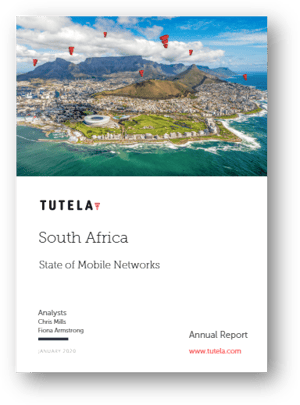 In this State of Mobile Networks report, Tutela has collected and analyzed over 7 million speed tests, 117 million latency tests, and 831 million total mobile records between June 1st and November 30th 2019 to build a complete picture of mobile network experience across the country, and see how the operators stack up as they move towards widespread 5G deployments.