February 2020
With the first month of 2020 mired down by an abundance of 5G news hype coming out of the US and Europe, Tutela sets the limelight on the Singapore mobile industry. In just the first half of January, Optus Australia made an inter-country 5G test video call with Singtel, and StarHub signed an agreement along with M1 to submit a joint bid for 5G licenses. Singapore has become a hot commodity for tech business, and we can see this in the way the country topped the Cisco Global Digital Readiness Index of 2019 which judges nations based on such things as ease of business, technology adoption and technology infrastructure.
The mobile operators of Singapore must also keep up with the latest communication technology and infrastructure. There are three major telcos in Singapore with 15+ years of experience in the game but they are staring down the barrel of new competition with the emergence of TPG Telecom, an Australian operator.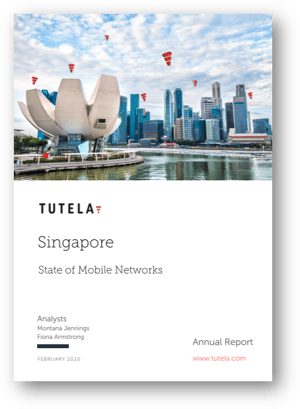 In this State of Mobile Networks report, Tutela has collected and analyzed over 11 million speed tests, 138 million latency tests, and 542 million total mobile records between July 1st and December 31st 2019 to build a complete picture of mobile network experience across the country.
---