October 2019
The Spanish and Portuguese mobile industry continues to make big moves for its users. Not only is 5G being tested here, but operators such as Movistar are launching new technology such as Wi-Fi calling to make better use of the 4G network and improve coverage.
In Tutela's State of Mobile Networks report for Spain and Portugal it showed Movistar was the best provider in Spain for Excellent Consistent Quality, Core Consistent Quality, and download speeds. However, upload speeds and latency were won out by Vodafone. Vodafone was found to be the best for Portugal in regards to all metrics Tutela tested.
To see how the nationwide carriers on the 3G and 4G networks performed against the top 5 most populated cities of Spain and the top 5 most populated cities of Portugal, Tutela has collected and analyzed over 21 million speed tests and 329 million latency measurements between March 1st and August 31st 2019.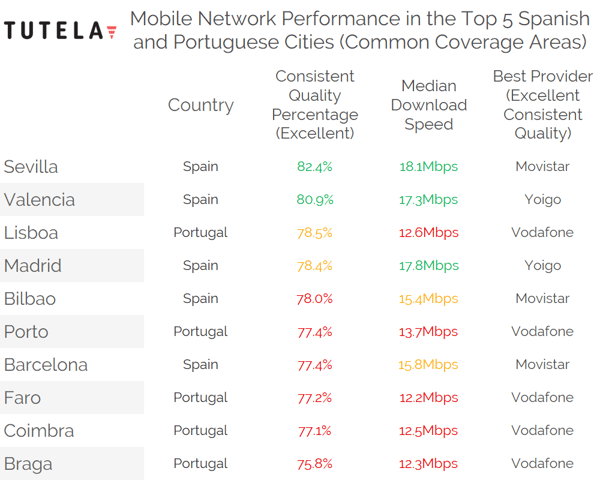 ---

Key findings:
Sevilla has the best overall mobile network quality in Spain - with an Excellent Consistent Quality percentage of 82.4%. It also has the fastest median download speed with 18.1 Mbps.


Lisboa has the best mobile network quality for Portugal - with an Excellent Consistent Quality percentage of 78.5%.


Madrid ranked fourth overall for Excellent Consistent Quality with 78.4%, and third in
Spain behind Sevilla and Valencia.


Madrid and Valencia are the only two cities to have Yoigo rank as their top provider, based on Consistent Quality.


Movistar delivered the best quality in three out of the five cities tested in Spain, whilst Vodafone dominated in all cities tested for Portugal.


Jump to individual city results
---

Consistent Quality
To more objectively evaluate when networks are (and are not) enabling users to do those things, Tutela has developed a standard called consistent quality. Simply put, it's two sets of thresholds, called Excellent and Core. If a connection hits the Excellent standard, it's sufficient for the most demanding mobile use-cases, like HD group video calling or 1080p video streaming. A Core connection is good enough for SD video streaming, web browsing, emails, and VOIP calling, but users are more likely to experience delays or buffering when trying to use more demanding apps. Tutela bases the threshold values on the minimum performance requirements published by popular apps. We most recently updated our Consistent Quality threshold on September 1st, 2019.
Tutela's consistent quality metric, as used in our reports, simply measures the percentage of time that users can hit the thresholds. The higher the number, the more often users have a Core or Excellent quality connection.
Excellent Quality
| | | | | | |
| --- | --- | --- | --- | --- | --- |
| KPI | Average download speed | Average upload speed | Latency | Jitter | Packet loss |
| Minimum acceptable value | 5 Mbps | 1.5 Mbps | 50 ms | 30 ms | 1% |
Core Quality
| | | | | | |
| --- | --- | --- | --- | --- | --- |
| KPI | Average download speed | Average upload speed | Latency | Jitter | Packet loss |
| Minimum acceptable value | 1.5 Mbps | 500 Kbps | 100 ms | 50 ms | 5% |


---