As Vodafone announces its Christmas campaign offering free services during the festive season, it also leads our latest network performance tests based on data collected between August and October, with the fastest average download and upload speeds as well as the best latency scores across the country.
Vodafone lead 4G download speeds
With average download speeds of 17.26 Mbps, Vodafone tops our chart between August and October for 4G. On 3G, MEO takes first place with average speeds of 6.08 Mbps compared with Vodafone's 3G results of 5.93 Mbps. NOS places third for both 3G and 4G, averaging 4.78 Mbps and 12.67 Mbps respectively. In Porto, NOS manages to inch ahead of MEO but still places second behind Vodafone with average 4G speeds of 14.42 Mbps.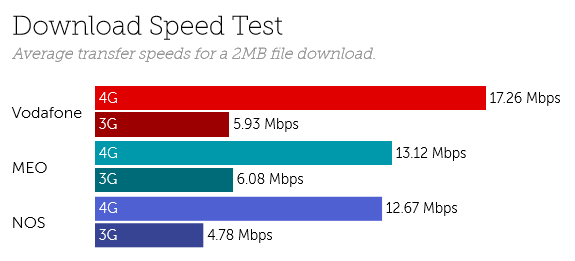 Vodafone top 3G and 4G upload speeds
Vodafone also leads upload speeds on both 3G and 4G averaging 2.73 Mbps and 8.81 Mbps respectively. NOS places second on 4G, closely followed by MEO across Portugal. In Faro, MEO move to second place ahead of NOS, but still sit behind Vodafone which averages 7.88 Mbps on 4G.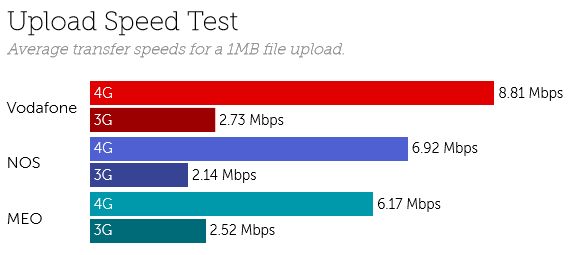 Vodafone also lead latency
Averaging 31.4 ms on 4G and 69.3 ms on 3G, Vodafone also leads our latest latency results collected between August and October. NOS take second place on 4G, just ahead of MEO with results of 40.2 ms and 46.4 ms respectively. Similarly with upload speeds in Faro, MEO move up to second place for 4G latency, averaging 49.6 ms ahead of NOS which reported 51.1 ms for the region.

Our findings for Portugal are based on 1.84 billion network quality measurements including 170,000 speed tests between August and October 2018. Our latest complimentary Mobile Experience Report is available to download from the Tutela Insights portal.
---
Subscribe to our latest insights
Access Tutela Insights to view this complimentary report in full and subscribe below to get our latest insights in your inbox each week.