May 2019
Vodafone continues to demonstrate the best mobile experience nationwide in Portugal, based on 6.9 billion measurements taken from Feburary to April by Tutela. As well as recently conducting the first 5G mobile roaming session, together with Vodafone Spain and Ericsson, Vodafone Portugal performed best for excellent consistent quality as well as leading speeds and latency across the country.
Vodafone perform best for excellent consistent quality
Across Portugal, Vodafone demonstrated the best excellent consistent quality result, achieving a percentage score of 78.1% ahead of NOS and MEO which scored 69.8% and 67.6% respectively. Whilst Tutela's excellent consistent quality metric is representative of use-cases such as streaming HD video or making reliable group video calls, all operators in Portugal performed close to 100% for basic consistent quality, suitable for performing tasks like browsing web pages, internet messaging and social networking. Click here to learn more about Tutela's consistent quality metrics.

Vodafone also continue to lead speeds
Similar to the results from our March Mobile Experience Report for Portugal, Vodafone also performed best for download and upload speeds across the country. Across both 4G and 3G, Vodafone averaged download speeds of 15.81 Mbps, topping the rankings ahead of NOS and MEO respectively. On 4G only, Vodafone's average download speed rose to 18.73 Mbps nationwide, and reached 19.88 Mbps in Lisboa, and 21.47 Mbps in Faro.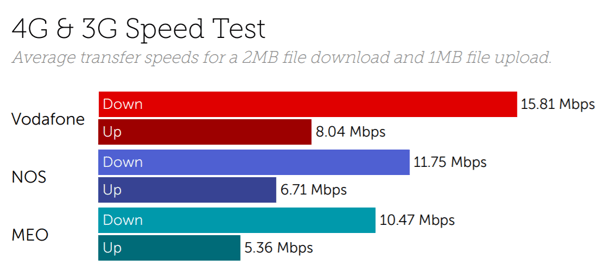 Vodafone top rankings for latency
With an average latency delay on 4G of 27.7 ms, Vodafone also topped Tutela's latency chart for Portugal. NOS is in second place barely a fraction behind, averaging 30.3 ms across the country, with MEO sitting in third place averaging 42.1 ms. The gap between Vodafone and NOS was even closer in Lisboa, where Vodafone averaged 27.3 ms and NOS 28.0 ms, a difference of just 0.7 ms.


Our findings for Portugal are based on 6.99 billion network quality measurements including 978,000 speed tests recorded between February and April. Our latest complimentary Mobile Experience Report is available to download from the Tutela Insights portal.
---