June 2021
A new reality has emerged as a result of the pandemic in terms of how subscribers consume telecoms services. As demand for these services has increased exponentially with people working from home, providing a robust and stable network connection has become critically important for operators around the world. Deployment of 5G networks is one of the most important steps towards ensuring that this mammoth task of delivering superior quality service to customers during these uncertain times is carried out successfully.
Some European operators have made great strides when it comes to 5G deployment. While Polish mobile operators may not be at the same level of maturity in terms of 5G penetration, they are steadily moving forward towards achieving these milestones.
Polkomtel's Plus which launched its commercial 5G network in May 2020, now reportedly covers about 12 million residents in over 160 locations and works on the 2600 MHz TDD (Time Division Duplex) band. As of March 2021, Orange covers about six million users through the #hello5G plan on the 2100 MHz band shared between 4G and 5G with the help of Dynamic Spectrum Sharing (DSS).
Further, T-Mobile reported that data traffic on its 5G network doubled since December 2020 and now covers 5G services to 6.3 million people in over 50 cities and towns, again using the 2100 MHz band., Play, which was acquired by Iliad in September 2020, announced that it would start trials with Samsung Electronics in Warsaw to evaluate the performance of Samsung's 4G and 5G solutions. The trials which will include Samsung's 5G Massive MIMO radios and baseband units will also test interoperability between Play's 2G/3G networks and Samsung's solutions.
In regards to allocation of new 5G spectrum bands, The Chancellery of the Prime Minister of Poland had proposed a deadline of August 27, 2021 to allocate spectrum in the 3400 - 3800 MHz bands in late 2020. However, it has been reported that the new chairman of Polish national telecommunications regulator UKE has issued a statement that the auction process should be postponed until two new legal acts related to telecoms and cyber-security are adopted.
Besides 5G deployments, there were several other ways in which Polish operators made progress towards strengthening their networks. Orange Poland recently announced that it had surpassed LTE 10,000 base stations utilized for the 1800 MHz band. The 10,000th base station was deployed under NetWorks!, a joint venture between Orange and Play. Orange and Play also extended their national roaming agreement contract recently. Additionally, Orange continued to expand its network through spectrum refarming which was completed in June 2020. Resources in the 1800 and 2100 MHz bands were refarmed that resulted in 9,256 base stations now being used for LTE services.
Improvements such as these that include network expansion and capacity building surely help operators establish a strong network which ultimately result in creating positive mobile experiences for their customers. Polish operators will certainly benefit immensely from the impending 5G spectrum auction not only for improving their service even further but also in catching up with their European counterparts in deploying 5G networks.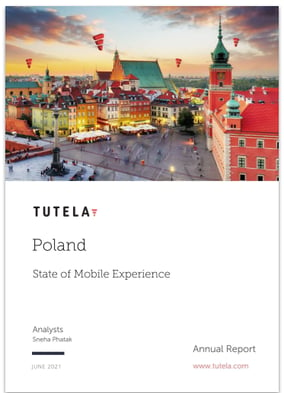 In order to benchmark mobile experience over the last six months, Tutela has evaluated over 2 million speed and latency tests, conducted on the smartphones of real-world users of national mobile operators within Common Coverage Areas, between December 1, 2020 and May 31, 2021.
Featured operators:
T-Mobile, Orange, Play, Plus
---