June 2018
In our latest findings for Peru, Entel demonstrated the quickest download speeds in the region, with an average of 12.94Mbps across both 4G and 3G. In comparison, Movistar, who placed second, averaged download speeds of 6.95Mbps, inches ahead of Claro, followed by Bitel at 4.18Mbps.
According to reports of their first quarter results from this year, Entel's customer base has grown 34% year on year, reaching 7 million customers in Peru, largely driven by their mobile broadband services.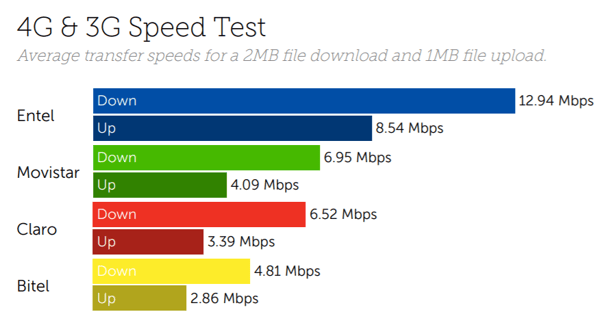 Bitel jump to second place for upload speeds
Bitel, who rank 4th for download speeds on 4G, placed second in our tests over the last quarter for upload speeds, reaching averages of 5.07Mbps, quite far behind Entel at 10.63Mbps, but ahead of Movistar and Claro who each score 4.86Mbps and 3.90Mbps respectively.
Bitel plan to invest $110 million over the next 3 years to expand its mobile network, with hopes of reaching 183 of Peru's 196 provinces by the end of the year.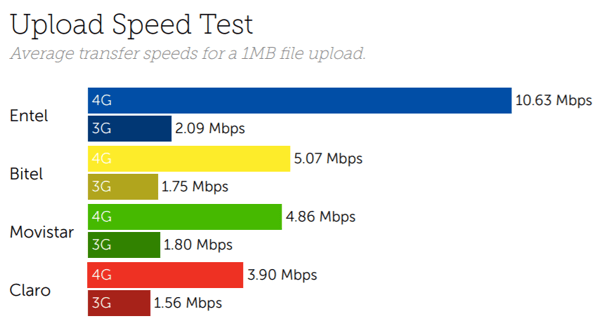 Entel also top our latency results
Similar to our results for Bolivia, Entel also lead our latency results in Peru, with speeds of 53.8ms on 4G. The president of the Entel shareholder board, Juan Hurtado, recently announced Entel plans to invest in $480 million in their Peru operations by 2020, further emphasising their growth plans over the next few years.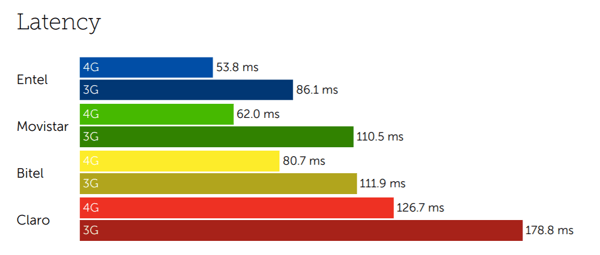 Our findings for Peru are based on 4.99 billion network quality measurements including 592 thousand speed tests between March and May 2018. Our latest complimentary Mobile Experience Report is available to download from the Tutela Insights portal.
Get the full report
Access Tutela Insights to view this complementary report in full