August 2018
Entel lead download speeds across both 3G and 4G, averaging 12.70Mbps based on our real world tests between May and July this year. Movistar, who place second overall with average speeds of 7.14Mbps, look to close the gap in La Libertad, but can only reach average download speeds of 12.33Mbps on 4G, compared with Entel's 16.75Mbps.
Peru's Ministry of Transport and Communications have recently put forward draft regulations on spectrum refarming in order to improve competition and network efficiency within the market, a move hoping to benefit all operators and consumers, facilitating more modern and efficient internet access technologies for the future.
Entel almost double second place Bitel for upload speeds

With average upload speeds on 4G of 11.36Mbps, Entel score almost double that of second place Bitel, whose 4G results averaged at just 5.88Mbps, followed closely by Movistar and Claro.
New figures have been revealed showing the number of users switching mobile operator between January and July in Peru this year. Most users reportedly switched to Entel, who gained 1,592,569 subscribers, followed by Claro, 440,961. Bitel reportedly lost around 490,000 with Movistar losing the most, 1,543,214.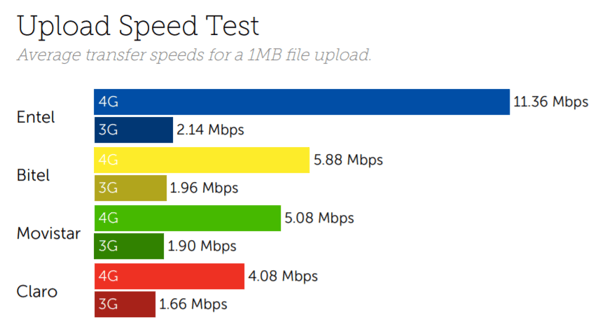 Entel top latency

It's no surprise Entel also top our latency results for the last quarter. On both 3G and 4G, Entel score 99.5ms and 54.9ms respectively, ahead of second place Movistar.
Movistar, who have previously announced plans to invest PEN 1.4 billion this year, have recently invested PEN 25 million to bring high speed connectivity to the Ucayali region in the Amazon rainforest, installing 82 mobile antennas and extending coverage to 137 localities.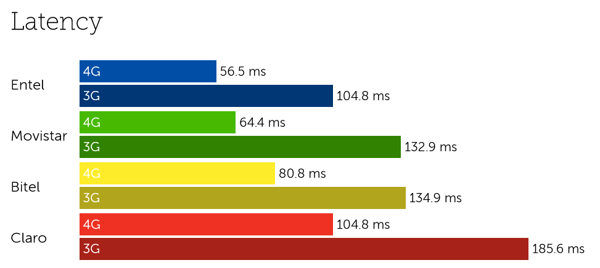 Our findings for Peru are based on 7.3 billion network quality measurements including 715 thousand speed tests between May and July 2018. Our latest complimentary Mobile Experience Report is available to download from the Tutela Insights portal.
---
Get the full report
Access Tutela Insights to view this complementary report in full and subscribe to get our latest insights in your inbox each week.