July 2019
As a first-look at Paraguay, Tutela has found favorable results from the country's mobile providers. Claro came first in the consistent quality metric with the highest percentage of 'excellent' quality of 61.7%, and also had the highest average download speed with 10.25 Mbps. Tigo performed best in the latency test with 34.1 ms.
Claro performs best on consistent quality metric
At the same time as Tigo Paraguay offering its users an Amazon Prime Video promotion in June, Tutela has used its new metric, consistent quality, which looks at different use cases to identify the quality of each connection (i.e. video quality) to analyze the country's performance.
According to our latest crowdsourcing results, Claro has topped the consistent quality metric, with the highest percentage of 'excellent' consistent quality at 61.7%. Tigo came in second with 58.4% and Personal in third with 49.2%.
You can learn more about Tutela's consistent quality metrics here.

Claro performs best for average download speeds

Claro also tops the 4G/3G speed test, with an average download speed of 10.25 Mbps for the April - June testing period, and a 4.84 Mbps result for upload speeds. Tigo performed a 9.30 Mbps result on downloads, while Personal had the lowest average download result with 6.99 Mbps and the lowest average upload result with 4.01 Mbps.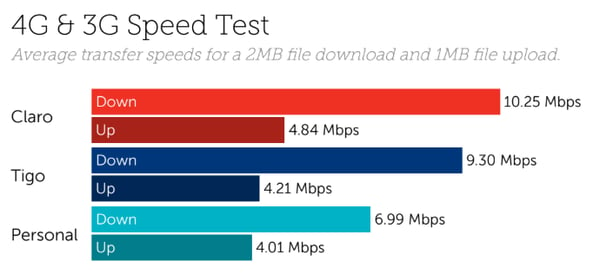 Tigo performs best on latency
In regards to the latency test, Tigo had the lowest latency result with 34.1 ms on the 4G network and 68.5 ms on the 3G network. Claro had the highest latency result on the 3G network with 82.4 ms, but performed better on the 4G network with 38.5 ms. Personal recorded 44.7 ms on 4G and 70.7 ms on 3G network.

Our findings for Paraguay are based on 2.67 billion network quality measurements including 333,000 speed tests between April and June. Our latest complimentary Mobile Experience Report is available to download from the Tutela Insights portal.
---