February 2021
Nordic networks have a global reputation for being some of the best in the world, a reputation that was upheld in Tutela's 2020 Global Mobile Experience report, which saw all four Nordic countries finish in the top 20 countries in the world for mobile experience.
However, how the Nordics works to retain this position of international leadership, in an era where operators increasingly look to shift to 5G connections, remains the primary challenge of 2021.
5G networks and devices are becoming increasingly ubiquitous, with multiple operators having commercially available deployments in every country in the region. While 5G deployments are not yet making significant inroads in population-wide mobile experience, 5G rollouts can improve aspects of the LTE network — something some operators have stated.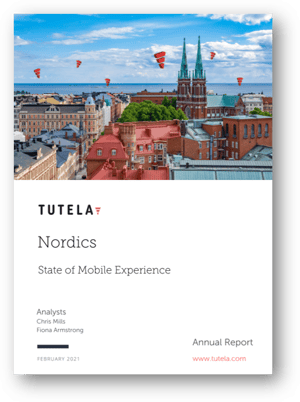 In order to benchmark mobile experience over the last six months, Tutela has evaluated over 1.8 million speed and latency tests, conducted on the smartphones of real-world users of national mobile operators within Common Coverage Areas, between July 1st and December 31st, 2020.