March 2021
In the latest Mobile Experience Snapshot for New Zealand, 2degrees and Spark statistically tied for first place in Excellent Consistent Quality, while Vodafone had both the fastest download and upload speeds. 2degrees had the most responsive network.
2degrees and Spark lead Excellent Consistent Quality
In Common Coverage Areas across New Zealand, Spark and 2degrees were statistically tied for first place for Excellent Consistent Quality, with over 80% of connections having a network experience suitable for use-cases like 1080p video streaming, real-time mobile gaming and HD video calling. Vodafone was not far behind with an Excellent Consistent Quality of 77.2%.
For Core Consistent Quality, Tutela's metric for when a connection is good enough for web browsing, social media sharing and SD video streaming, Spark and 2degrees were the only operators to reach the 90% threshold, with 2degrees narrowly out in first place with a Core Consistent Quality of 91.2%.
You can learn more about Tutela's Consistent Quality metrics here.

Vodafone takes the top spot for download and upload speed
Despite its last place rankings in the Consistent Quality metric, Vodafone was ahead of the pack in the download speed test with a median transfer speed of 26.9 Mbps. In second place was 2degrees by only 5.1 Mbps, followed by Spark in third place with a median download speed of 19.7 Mbps.
The competition was much tighter in the upload speed test, with Vodafone in first place with 11.8 Mbps, followed by 2degrees at 10.5 Mbps, and Spark at 10.0 Mbps.

2degrees had most responsive network
2degrees had the most responsive network in Common Coverage Areas across New Zealand with a median one-way latency result of 23.2 ms. With a difference of only 1.4 ms, Vodafone was in second place, whilst the difference in performance between last place Spark and 2degrees was 6.2 ms.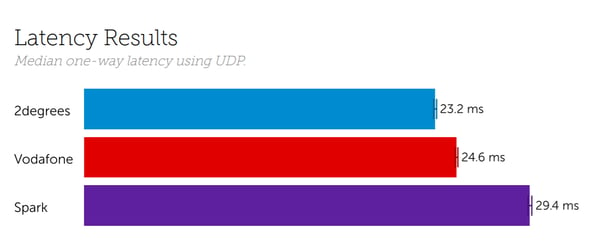 Our findings for New Zealand are based on 2.51 billion network quality measurements including 193,000 speed tests between December 2020 and February 2021. Our latest complimentary Mobile Experience Report is available to download from the Tutela Insights portal.
---