June 2019
Utter the words "network improvement" and the next thing you'll likely hear will be "5G". But whilst the bulk of industry attention is on the upcoming 5G rollout, the networks that consumers are actually using are still driven by venerable 4G technology, which operators aren't done improving. While we're enamoured with the potential of millimeter-wave spectrum and autonomous cars, it's easy to forget the improvements that 'boring' 4G deployments are bringing to customers every day.
Case in point: last week, Deutsche Telekom said that it has finished deploying over 300 additional LTE stations across Germany, bringing LTE service to 51,000 households. Using Tutela Explorer, our industry-leading cloud analysis platform, it's easy to validate Deutsche Telekom's progress and see if the rollout has started having a tangible effect on end-user quality of experience.
When viewed at a national level, the improvement is apparent, but modest. The new base station deployment process started nine weeks ago, in March; at a national level, the utilization of Telekom's 4G network (when looking at the percentage of total data sent over 3G and 4G) has improved by a few percentage points:
However, the new base stations haven't been distributed evenly across the country, and some regions have benefited much more than others. Deutsche Telekom claimed that 3,400 households in Kaufungen have been covered with 4G for the first time, and using Explorer's dynamic filtering, we can see how the 4G usage in Kaufungen skyrocketed over the last two months, from under 5% to nearly 95%:
When it comes to the impact on end-user quality of experience, the biggest difference between 3G and 4G technologies can be seen in latency. Additional data also suggests that improvements in latency drive a greater increase in consumer satisfaction than improvements in download or upload speed.
As such, the significant decrease in network latency driven by Telekom's Kaufungen 4G deployment is particularly noticeable. Based on 1,433 latency measurements recorded on Telekom's network from March 24th to June 1st in Kaufungen, Explorer shows us that the average latency dropped from 63 milliseconds to just 24 milliseconds. In "real world" terms, that improvement can be the difference between making a successful video call or constantly dealing with drops -- or, being able to play a competitive video game or constantly suffering from lag.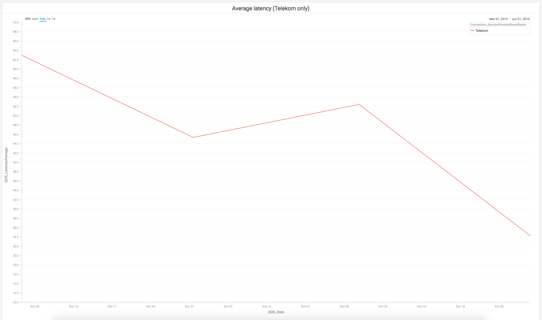 Although 5G is going to deliver tangible benefits to consumers and networks in the long run, many of the best use-cases -- such as autonomous vehicles -- also require other technology that is not yet fully realized. When it comes to maximizing customer experience, the Deutsche Telekom rollout is a perfect example of how small and sustained improvements to existing technology result in a tangible improvement for users. While network operators certainly can't afford to take their eyes off 5G and the need to acquire the relevant spectrum, balancing this with investment in existing technologies is a critical priority. Combining Tutela's crowdsourced data and intuitive, cloud-based analysis tools can help operators and other industry players validate network deployments and see the benefit that they provide to real-world consumers.
By Chris Mills, Head of Industry Analysis, Tutela