April 2020
As some industries are seeing a temporary downturn in productivity during this time, others are finding ways to adapt and tend to their customers' needs. This is particularly noticeable for the mobile industry across the world and in particular Mexico, with Telmex recently handing over the concession of 3.5 GHz band to Telcel, which should greatly step up the operator's 5G progress.
It is also predicted that Mexico could have the fastest adoption rate of the 5G network in Latin America, with a 12% adoption rate by 2025 predicted by the GSMA.
In a bid to carve away a large portion of America Movil's long-held dominance in Mexico, Telefonica back in November last year teamed up with US company AT&T to use some of their last-mile infrastructure in the country in the way of towers, antennas and fibre-optic cables.
This deal will not only give both companies more traction to beat out the stiff competition, but to also survive financially against rising debt that comes hand in hand with improving network infrastructures. Mexico's watchdog, the Federal Telecommunications Institute, has also created free prepay plans available to all users signed to any of the three major operators in the country to ensure its people are able to keep in contact with loved ones during the outbreak.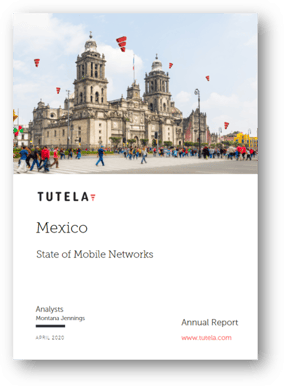 In this State of Mobile report, Tutela has collected and analyzed over 39 million speed tests, 676 million latency tests, and over 6 billion total mobile records between September 1st 2019 and February 29th 2020 to build a complete picture of mobile network experience across the country.
---