March 2021
2020 and the pandemic highlighted the need for consistency in mobile connectivity across Mexico. Adapting to this requires a shift in focus from beating out the rest with new technological advancements, to ensuring that people have a reliable connection to the internet at all times, especially for those who may have found themselves working or learning from home. It is a shift that the Mexican telecommunications industry are clearly taking seriously - for example, all three leading operators have recently been granted access into the country's 4.5G shared network, delivering connectivity to localities with 5,000 or less people.
The year has also been one of consolidation to maintain a competitive dynamic in challenging times. Movistar signed an eight year agreement in 2019 for the operator to gain access to AT&T's 3G and 4G network, with the first stage of migration completed in the first quarter of 2021. This puts Movistar in a unique position with these shared agreements where it can relinquish much of its spectrum holdings, while still delivering service and keeping operational control over the brand. AT&T has also followed in a similar direction to Movistar, returning some 800 MHz spectrum, citing concerns that the spectrum was too expensive for operators to invest in.
However in an era of consolidation and resource optimization, there is still room for improvement: In Tutela's latest Global Mobile Experience report, Mexico found itself in 68th place out of 172 countries analyzed for Excellent Consistent Quality, Tutela's metric for when a connection is good enough for use-cases like 1080p video streaming, real-time mobile gaming and HD video calling. The country also placed 71st for Core Consistent Quality, and did slightly better in the median download speed test with a placement of 57th, along with South Africa and Romania.
While partnership and effective resource optimization will be pivotal to delivering short term improvements, the next adoption of the generation of mobile connectivity will also be critical to shaping Mexico's telecoms future. 5G has been a slow-burn in Mexico, with delays to its next spectrum auction (a common phenomenon in 2020) however the Mexican regulator IFT has now approved the tender of 41 blocks of spectrum for September this year. How Mexico's operators choose to use this additional resource will be pivotal for how the country compares on the regional and international stage in the years ahead.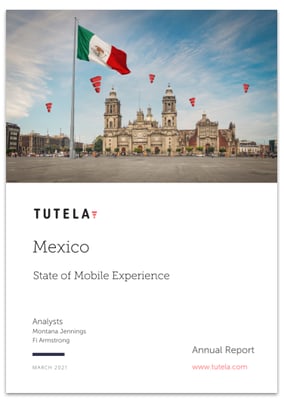 In order to benchmark mobile experience over the last six months, Tutela has evaluated over 7 million speed and latency tests, conducted on the smartphones of real-world users of national mobile operators within Common Coverage Areas, between September 1st 2020 and February 28th, 2021.
---