September 2018
Each operator in Mexico has something to shout about, with Movistar leading download speeds, Telcel leading upload, and AT&T performing best for latency across the country. From our latest crowdsourced tests in August, we can also see some shifts regionally, as Movistar top latency in the state of México and AT&T lead upload speeds in Nuevo León.
Movistar and AT&T were the only two operators to take part in Mexico's latest spectrum auction, as Telcel, who already have 2.5GHz capacity, pulled out criticizing the conditions of the tender. The IFT, Mexico's telecommunications regulator, have reported that new licences issued during the tender will help boost Mexico's mobile broadband capacity by 26.5 percent, as all operators look to implement 5G capabilities on the new 2.5GHz band.
Movistar top download speeds
Throughout Mexico, Movistar lead download speeds when averaged across both 3G and 4G with a score for August of 10.07Mbps. AT&T place second, however drop to third when we look at 4G only, where Telcel take second place, with real world download speeds of 11.24Mbps.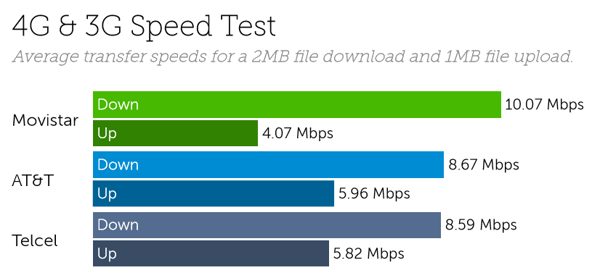 Telcel lead upload speeds
Telcel, who perform best for network stability with the lowest average results for jitter and packet loss, also lead upload speeds, averaging 7.74Mbps on 4G. Movistar place third, with results of just 5.99Mbps on 4G. In Nuevo León, AT&T lead upload speeds, reaching highs of 8.91Mbps on 4G.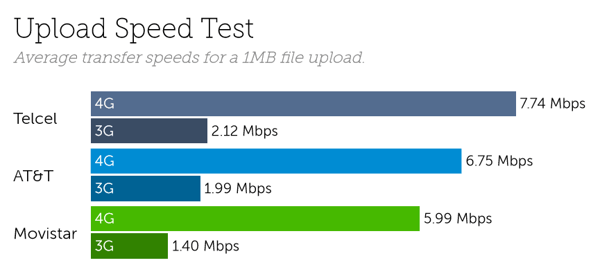 AT&T perform best for latency

AT&T score best with the lowest latency of the group, averaging 52.6ms, ahead of both Telcel and Movistar who score 54.8ms and 57.2ms respectively. In Distrito Federal, Movistar takes second place for latency ahead of Telcel and top the group in the state of México where latency results for all operators are higher than the average.

Our findings for Mexico are based on 14.2 billion network quality measurements including 1.07 million speed tests in August 2018. Our latest complimentary Mobile Experience Report is available to download from the Tutela Insights portal.
---