November 2018
According to our latest crowdsourced results from October, Movistar continue to lead download speeds across Mexico as Telcel top upload speeds. Telcel also perform best for latency on 3G, as AT&T take the 4G latency lead.
Movistar top download speeds
Movistar lead overall download speed tests across both 3G and 4G in Mexico, with average download speeds of 9.57 Mbps, just ahead of AT&T who averaged 9.42 Mbps in the month of October. Telcel average 9.16 Mbps, putting them in third position but do move up to second ahead of AT&T, when we looked at just 4G speeds.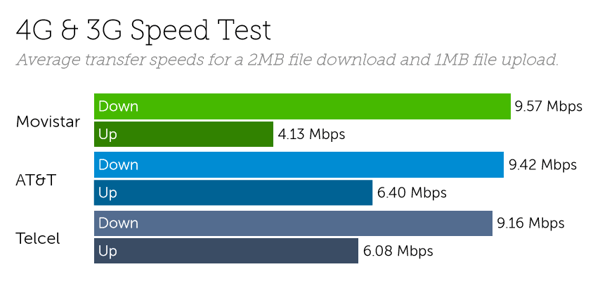 Telcel lead upload speeds
Across Mexico, Telcel demonstrate the fastest upload speeds of the group, averaging 7.54 Mbps on 4G, ahead of AT&T and Movistar who both average 7.05 Mbps and 5.55 Mbps respectively. The only difference regional is in Nuevo León, where AT&T take the top spot for upload speeds, and average 9.40 Mbps, 1.26 Mbps quicker than Telcel.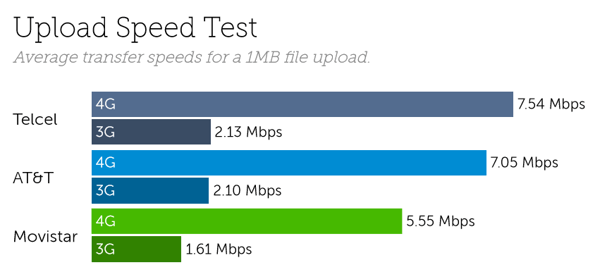 AT&T perform best for latency
As well as leading upload speeds in Nuevo León, AT&T also lead latency across Mexico on 4G, with results from October of 48.1 ms. Telcel place second only just ahead of Movistar with average 4G results of 54.9 ms and demonstrate the best latency on 3G, with average results from October of 93.5 ms.

Our findings for the Mexico are based on 28.5 billion network quality measurements including 1.92 million speed tests in October 2018. Our latest complimentary Mobile Experience Report is available to download from the Tutela Insights portal.
---