May 2018
With average download speeds of 10.82Mbps across Mexico, AT&T sit ahead of both Movistar and Telcel in our latest mobile experience speed test from April.
Similar to our February report findings, Movistar actually demonstrate the fastest download speeds on 4G, only falling behind AT&T when speeds are averaged over both 4G and 3G.
Although Telcel recently announced they will be opting out of bidding on the forthcoming tender for spectrum offered by the Mexican government, they have jumped ahead of Movistar to claim the second spot in our most recent upload speed graph, only marginally behind AT&T at 7.37Mbps.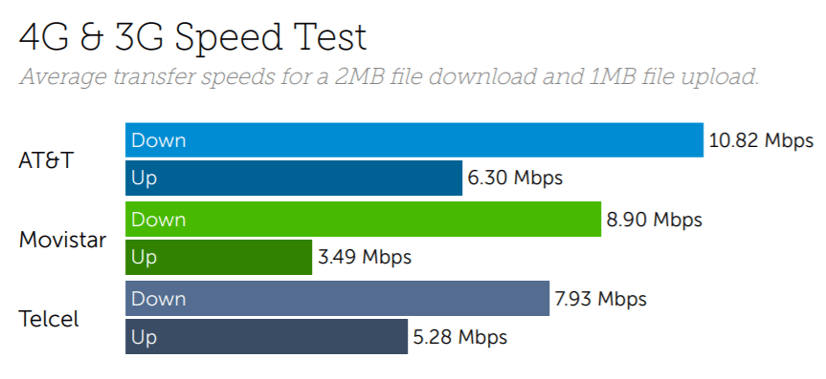 AT&T deliver the strongest latency

Closely followed by both Telcel and Movistar, AT&T demonstrate the quickest latency results over 4G in our April tests. Having also recently completed their project to deliver free wifi through a series of 20 hotspots in San Miguel de Allende, the company is further establishing their presence in the region and enhancing their deployment of network connectivity across Mexico.

Telcel perform well overall for network stability

Whilst scoring slightly higher than Movistar for average amounts of jitter, Telcel perform well for both average packet loss and jitter, giving them the top spot in our network stability findings for April. This will be great news for existing Telcel customers, especially as Telcel are set to launch a fixed wireless LTE service over their 4G network.
Telcel also perform consistently well when we drill down into specific regions, Distrito Federal, México state and Nuevo León.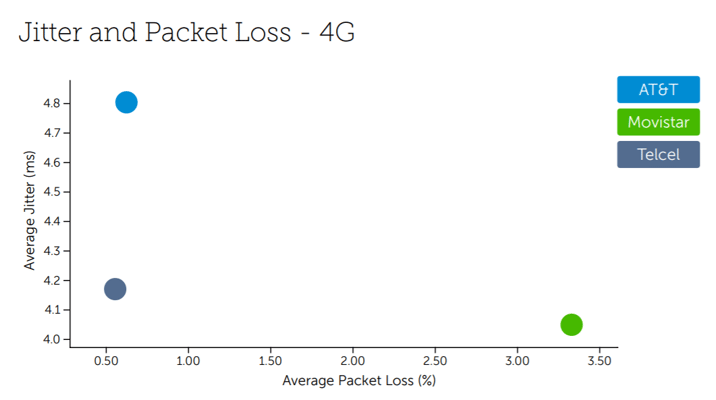 Our findings for Mexico are based on 4.13 billion network quality measurements including 366 thousand speed tests in April 2018. Our latest complimentary Mobile Experience Report is available to download from the Tutela Insights portal.
Get the full report
Access Tutela Insights to view this complementary report in full