Chile's telecommunications industry isn't too dissimilar to many others across the globe, with one standout network, in this case Entel, offering significantly greater performance than the other operators stuck battling for second place. Interestingly our network tests show this battle for second place shouldn't just be left to which operator demonstrates the best download speeds, as all three carriers suffer some degree of network congestion during peak hours, and performance often varies by region.
---
Key findings:
Entel delivers Chile's fastest mobile network experience - with a significant lead

WOM has overtaken Movistar in Santiago for download speeds

Claro users see 65% slow-down during evening peak hours

---

About our research
To understand which mobile operators are performing best and why, we took over 10,000,000,000 (10 billion) network quality measurements including 200,000 speed tests in Chile during September and calculated the average speeds and experience users are getting through each network. We test mobile networks in a way that represents the day-to-day usage and experience of real-world mobile users, such as accessing websites or downloading and sending images (not the maximum potential speeds under test conditions), so we can see what a typical user is experiencing on any given network.
Entel dominates network performance
Across Chile, Entel stand out head and shoulders above the other three operators in the country for download speeds. Our testing from more than 244 thousand devices in September gives them an average score of 13.3Mbps, more than double that of fourth place Claro and significantly higher than the results for both Movistar and WOM. There's no question, it would take considerable investment from the other three operators to close the gap on Entel, and with such close competition between them, you wouldn't be crazy to think either operator would be more than happy to settle for second place.
Entel maintain their lead position in each of the top 5 biggest cities in Chile: Santiago, Puente Alto, Antofagasta, Viña del Mar and Valparaiso, and there's little movement between the other three operators to note.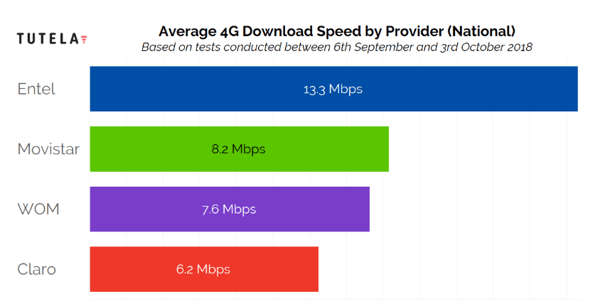 WOM takes second place in Santiago
In Santiago WOM have recently overtaken Movistar for download speeds in our latest tests. In other high population areas, WOM are behind Movistar, suggesting that WOM have been concentrating efforts to improve their network in the Capital and surrounding areas.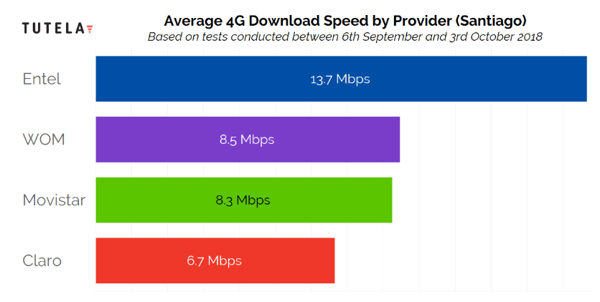 Claro speeds drop by 65% in the evenings
All networks see a performance drop during busy periods after work in the evenings, however, it's customers on the Claro network who suffer the most. Claro's users see an average of 65% slow-down in download performance in our tests, potentially due to having less spectrum capacity than both Entel and Movistar, and perhaps unsurprising as they're still upgrading their network for 4G availability.
4G download speed by time of day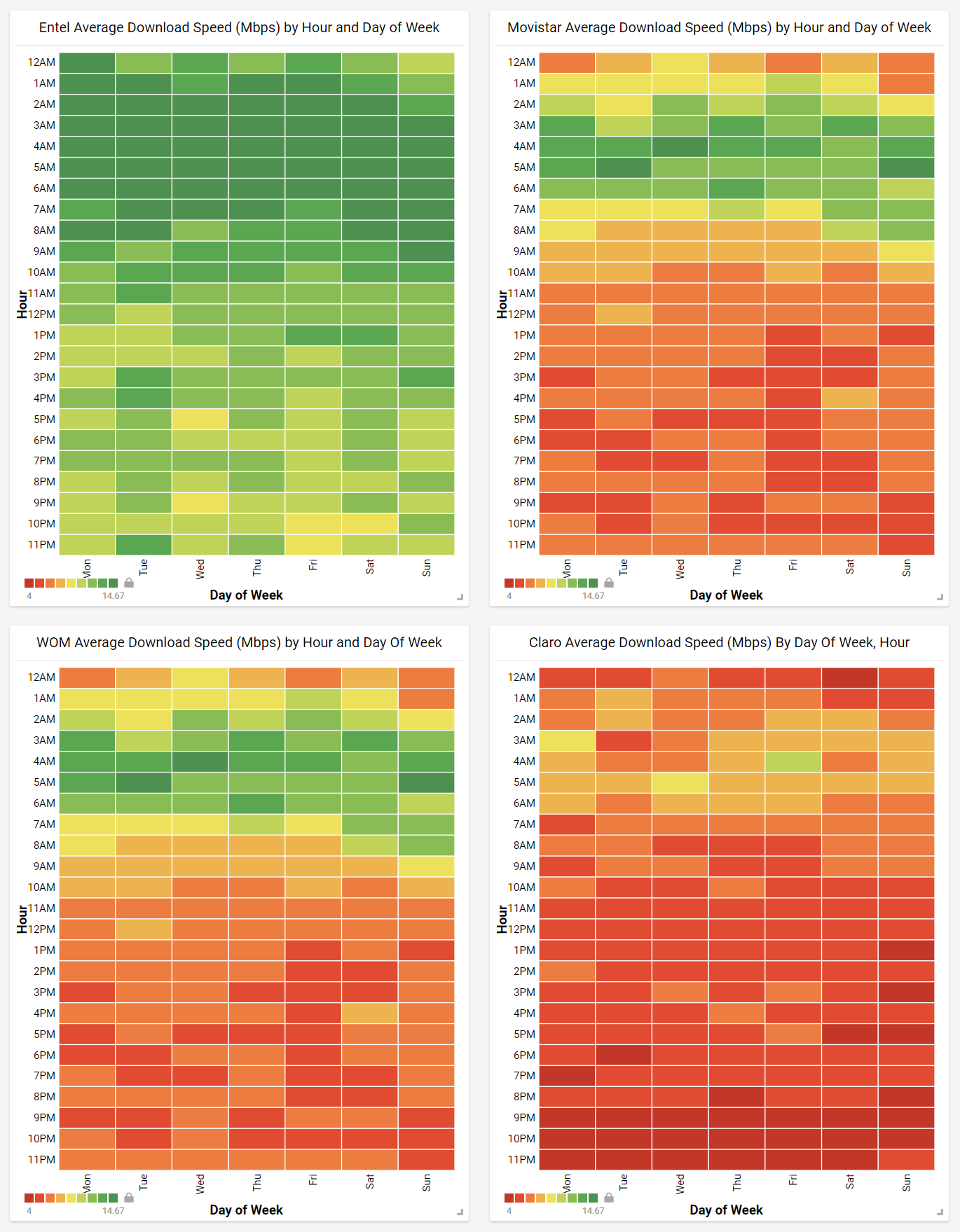 A need for consistent 4G
Chilean telecoms authorities have recently announced plans to raise spectrum caps on low and high frequencies, as the industry and operators look to implement 5G technology over the next 5 years. Our findings from September however show there's still a way to go to deliver a consistent 4G experience for most operators, with the exception of Entel, who will be pleased with Subtel's decision earlier this month to re-allow use of the 3.5GHz spectrum band and will be looking to expand on their already prominent position in the market. For Movistar, WOM and Claro, delivering a consistent 4G experience is still the next milestone to achieve.
---
Discover more of our data insights for Chile, and across the world, by joining Tutela Insights today.