December 2020
At the start of 2020, it seemed that the greatest changes to Latin American telecommunications were shaping up to be the impact of the sale of the majority of Telefonica's Latin American assets, along with the deployment of new 5G networks. However, 2020 has proved something of a curveball, with the global pandemic causing a renewed focus on ensuring a consistent level of reliable mobile connectivity to support remote working and online learning. Nowhere better exemplifies this focus than Argentina, where connectivity was labelled "essential public services", with a price freeze for 2020 designed to ensure telecoms services remained accessible to all.
However, this has also contributed to 5G taking more of a back seat in 2020, with Chile delaying its 5G spectrum auction by a month, and many other countries across the region planning to hold these in 2021. This means that for many users, reliable LTE connections remain the bedrock of their day-to-day mobile experience, and are likely to remain so until well into 2021 before 5G delivers any meaningful improvements across a wide range of users.
Earlier this year, Tutela benchmarked mobile experience at a country level worldwide – in that analysis, Uruguay proved the decisive winner in South America, placing top among South American countries for both Core and Excellent Consistent Quality - Tutela's metrics for benchmarking mobile experience against two tiers of mobile use cases. Uruguay placed joint 42nd internationally for Excellent Consistent Quality, while the second highest-performing country in Latin American for this metric was Argentina at joint 52nd.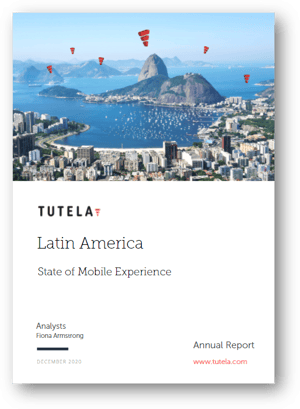 This new report examines operator-level performance within Latin America, focusing on the mobile experience delivered by the major national operators in each country. The report is based on over 84 million speed and latency tests, collected in Common Coverage Areas of sovereign nations in the Latin American region between May 1st, 2020 and October 31st, 2020.
The countries included in this analysis are: Argentina, Belize, Bolivia, Brazil, Chile, Colombia, Costa Rica, Cuba, Dominican Republic, Ecuador, El Salvador, Guatemala, Guyana, Haiti, Honduras, Mexico, Nicaragua, Panama, Paraguay, Peru, Suriname, Uruguay, and Venezuela.